---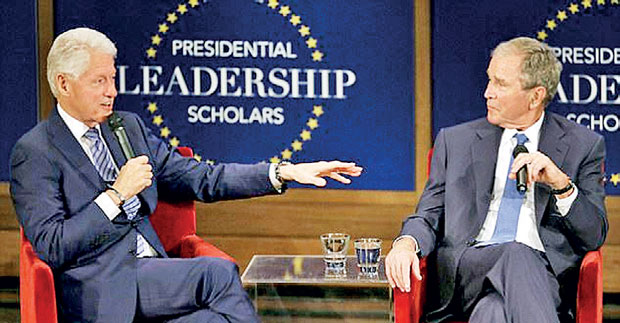 US, (Daily Mail), Bush and Clinton -
George W Bush and Bill Clinton both took apparent jabs at Donald Trump at a forum on Thursday night as they named the one characteristic a president needed above all others.

The two former presidents were speaking at a graduation ceremony for the Presidential Leadership Scholars program at the George W Bush Presidential Center in Dallas.

Bush replied 'humility' in answer to the question about presidential qualities, and added – 'I think it's really important to know what you don't know and listen to people who do know what you don't know.'Clinton said anyone holding the highest office in the land needs to keep focused on their goals. 'Realize it's about the people, not you,' he said. 'A lot of these people who are real arrogant in office,
they forget.

'You don't want to say, "God, look at all those people I beat".