---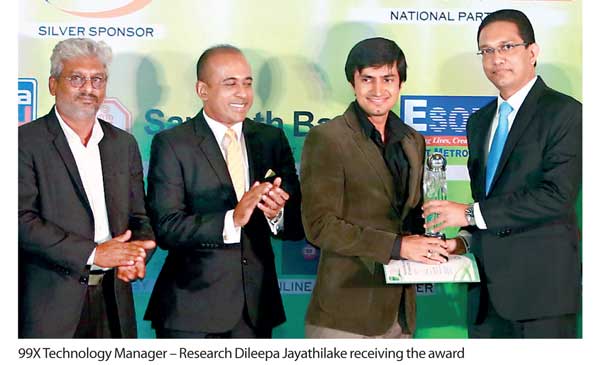 In a follow-up to its previous successes at the National Best Quality ICT Awards (NBQSA), 99X Technology was awarded Silver in the E-Logistics and Supply Chain Management Category at the 2016 awards ceremony, in recognition of its constant experimentation and continuous innovation in emerging sub-sectors in the ICT sphere.

The silver award was presented to ComTale, an all-encompassing Internet Selling platform geared towards enabling companies that deliver premium products to succeed in emerging high-end markets by providing them with a sophisticated e-commerce solution, equipped with unprecedented levels of product insights and sales analytics. Its innovative features give it the capability to handle multiple logistics channels and e-commerce channels to digitize a start-up's every possible business aspect.
ComTale further emerged Category Best as no gold award was presented in the E-Logistics and Supply Chain Management category this year. The 99X Technology Research and Development team will now go on to represent Sri Lanka at APICTA, the premier IT awards in the Asia Pacific, where ComTale will feature alongside the best and most innovative software products in
the region.

"Driving innovation has been a cornerstone of our operational processes right from the start and we have gone to great lengths to create an open yet challenging workplace culture that encourages innovation and advancements in numerous areas. It gives me great pride to see our Research and Development team recognized for their great efforts time and time again," stated 99X Technology Co-Founder and CEO Mano Sekaram.

Commenting on the win, 99X Technology Manager – Research Dileepa Jayathilaka said, "ComTale is the result of our constant efforts to improve the way premium producers approach emerging high-end markets via digital channels. We will continue to enhance it during the coming years with our young and brilliant team."
99X Technology is no stranger to NBQSA, having won Overall Silver and Category Gold in 2014 for the mobile app 'Televisionary', and Category Bronze for 'WAG – Web Accessibility Guide' and a Category Merit for iPad app 'Almur' in 2013.

Organised by the BCS The Chartered Institute for IT Sri Lanka Section (BCSSL), NBQSA is an annual national event open to over 20 categories of software, ranging from applications and infrastructure tools software to media and entertainment applications software. It provides a unique platform of opportunity to display and benchmark Sri Lankan ICT innovation and talent both locally and globally.