---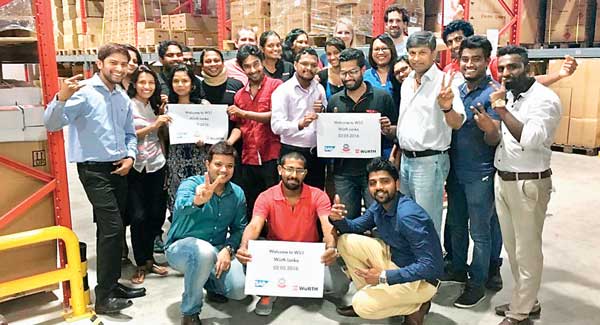 The Würth team with Managing Director-Rohan Amirthiah
Würth Lanka (Pvt) Ltd, the local subsidiary of German after-market giant Würth AG, announced that they have successfully implemented SAP and cutover to the worldwide SAP Würth System 1 (SAP-WS1) on 1st May 2016.

The SAP-WS1 is a worldwide system dedicated to Würth operations which operates out of a central server. Würth Lanka will now have access to a worldwide article database and similarly the Würth headquarters will be linked to its Sri Lankan operations via the
SAP-WS1.

"This state of the art ERP implementation will enable Würth Lanka to manage larger inventories and engage in a more efficient and effective demand plan for the rapidly growing market," said Rohan Amirthiah-Managing Director, Würth Lanka (Pvt) Ltd.

"We will now be able to conform to the stringent international standards set by Würth AG, Germany in managing our products and inventory. While the processes are complicated and new, I am pleased that the local team has adapted to the system quickly and well to give our customers a seamless service without any interruption" he added.

A team of SAP professionals and business process engineers from Würth AG including Sebastian Mokosh, Johannes Scmitt and Julianne Lange were in Sri Lanka for over a month for the SAP-WS1 implementation. They worked with members from Würth IT India and Würth IT Germany and all staff members at Würth Lanka, who worked tirelessly day and night for the successful go-live of SAP WS1 and were in preparation for the cutover for over 6 months from the beginning of the year.

Würth Lanka (Pvt) Limited is a fully owned subsidiary of Würth International, AG and belongs to Adolf Würth GmbH, Germany, the parent company of the Würth Group. Würth is a Euro 10 Billion Company and one of the largest international trading companies with more than 400 subsidiaries in 83 countries. With over 65,000 employees worldwide, Würth has the largest direct sales force in order to be closer to its customers. Würth Group is an industry leader as a high quality supplier and award-winning distributor of automotive products and equipment to professional workshops in more than 84 countries worldwide.