---
Uber, the ridesharing app that is redefining urban mobility across the world, began a phased roll-out of a unique integration with Snapchat in Sri Lanka, starting from last week.
With this new feature, riders will be able unlock custom Snapchat filters on their ride. From letting their friends know when they'll arrive with the ETA filters, to selecting a mystery filter for an added surprise, they now have a fun and social way to share that they're in an Uber.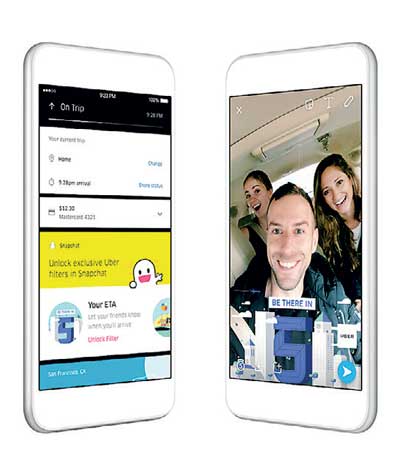 "In our new rider app, we start with the question 'Where to' so we can get riders to their destination as fast as possible. However besides helping riders get to their destinations, we want to focus on the trip experience itself and make sure riders enjoy the journey. Technology is helping us personalize every ride, making the experience fun and delightful. With this integration, our riders can now Snap along the way and share their Uber moments with friends and family, Apurva Dalal, Head of Engineering, Uber India said. An existing Snapchat user on an Uber ride will see a Snap card in the Uber feed. Riders can select the type of filter they want to unlock, take a selfie, and then swipe right. They can even use Uber filters with another Snap lens for double the fun. The Snapchat integration will available for riders on both Android and iOS in Sri Lanka.