---
One of Sri Lanka's leading transportation apps that has the highest number of Tuk Tuks registered numbering to over 6,000 recently updated their apps in both Google Play Store and Apple App Store recently.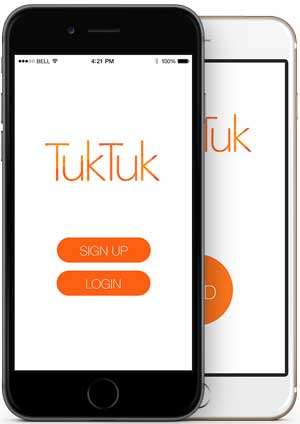 Tuk Tuk app has been in the transportation landscape in Sri Lanka for nearly two years and the network of tuk tuks working with the company has increased over time.
Speaking on the launch of the Tuk Tuk app's latest version CEO of Tuk Tuk Network Nadeesha Lokumannage said, the new version of the mobile app offers an array of backend network services in collaboration with largest mobile operator in Sri Lanka.
Tuk Tuk Network Services facilitate the customers to identify drivers based on Location Based Services (LBS) and Global Positioning System (GPS), and get notifications via Short Message Service (SMS) and Unstructured Supplementary Service Data (USSD) services to send a text between a mobile phone and the Tuk Tuk network in order to hire a Tuk Tuk
for a ride.
Main advantage of Tuk Tuk Network is due to drivers ability to register with the network using any type of mobile phone. This provides the company the unique advantage of technology to reach the total Tuk Tuk population of 1.1 million Tuk Tuk drivers registered in
Sri Lanka.
Officials also added that company is also inviting female taxi drivers and female taxi fleet operators to join the company's TukTuk Network since majority of female commuters in the country feel safer and are more confident when travelling in a taxi driven by
a female.
According to statistics over 36 percent of Sri Lanka's workforce is females and most working women and house wives use Taxis as convenient and a reliable transport service in their day to day life.
Tuk Tuk network aims to provider faster, safer and a convenient service for mainly to that segment of the population. According to the officials from the Tuk Tuk network the Tuk Tuk app has the potential to reach 20 percentof Sri Lanka's Tuk Tuks with nearly 6,000 Tuk Tuks and over 20,000 passengers already being registered with the app.