---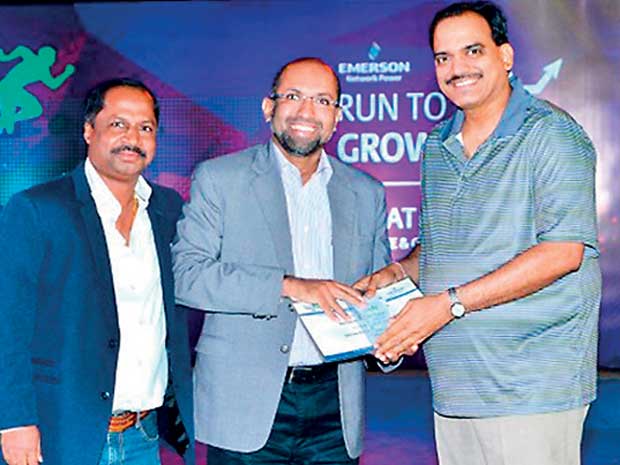 From left: Emerson Network Power India Director Business Development Bangladesh, Sri Lanka, Nepal, Bhutan and the Maldives Reginald Borges, Tech Pacific Lanka (Pvt.) Ltd Managing Director Hafez Wahid and Emerson Network Power India Vice President Sales Vasudevan Rajagopalan
Tech Pacific Lanka, one of Sri Lanka's specialized information technology (IT) distributing companies, was recently awarded a certificate of excellence for being the 'Best Partner for Smart Solutions for the year 2015' by Emerson Network Power (I) (Pvt.) Ltd.

Tech Pacific Lanka was recognized with this award at the Emerson Annual Channel Event held in Aamby Valley, Lonavala, India for its accelerated business contribution during 2015 to Emerson's Smart Solutions business.

Emerson Network Power is the world's leading provider of critical infrastructure technologies and life cycle services for information and communications technology systems. Emerson products and services cater to a wide variety of organisations. Emerson helps organisations protect and monitor their critical data with best-in-class Data Centre Solutions, Industrial Solutions and
Telecom Solutions.

It offers reliable and energy-efficient solutions through a wide range of products and services such as, power management, thermal management, IT management and services and consulting. Tech Pacific Lanka has helped Emerson to grow its Smart Solutions business in Sri Lanka since becoming an authorised partner two years ago.

Director Business Development Bangladesh, Sri Lanka, Nepal, Bhutan and the Maldives Reginald Borges said, "I would like to congratulate Tech Pacific Lanka on winning the excellence award for the work they have done to popularize Emerson's Smart Solutions business in Sri Lanka. Tech Pacific Lanka brings in years of expertise and the right blend of team to drive Emerson Smart Solutions ahead in the country.

The team is trained and certified by Emerson, so that they are fully equipped to offer customers the best solutions and service. I thank Tech Pacific Lanka for its unwavering focus and investment in our Smart
Solutions business."

Emerson recognizes the contribution of business partners through various performance awards annually. At the beginning of ever year, Emerson sets performance benchmarks for its business partners and nominates the highest achievers for the award. Business partners from Bangladesh, Sri Lanka, the Maldives, Nepal and Bhutan were nominated for the excellence award this year.

Managing Director Hafez Wahid said, "It is a great honour for our company to be presented with this special award from Emerson. As Emerson Smart Solutions' sole distributor in Sri Lanka, Tech Pacific Lanka looks to deliver high-quality, world-class solutions for our customers. Our network of data centre design experts are geared to help local businesses building strong, infrastructures for IT environments of all sizes and types.

Brandix Lanka, Orange Electric Corporation, Alliance Finance Company, Siyapatha Finance, Maga engineering, Softwatch Infosys as well as the Institute of Chartered Accountants Sri Lanka and the Women and Children's Affairs Ministry are some of the companies that have already used Emerson Smart Solutions to uplift their competencies in modern data
centre environments.

Through Emerson's Smart Solutions, we look forward to bringing economical, efficient, interoperable, scalable and controllable data centre infrastructure to
Sri Lanka."