---
Udari Madhushani, a Research Assistant at the Sri Lanka Technological Campus (SLTC), has been invited to present her novel findings on spherical robots at the 2017 American Control Conference (ACC) to be held in Seattle later this month.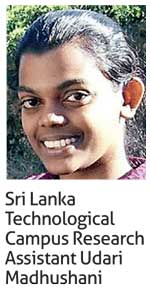 The ACC is internationally recognized as a premier scientific and engineering conference dedicated to the advancement of control theory and practice. The ACC brings together an international community of researchers and practitioners to discuss the latest findings in automatic control. The 2017 ACC technical programme will comprise several types of presentations in regular and invited sessions, tutorial sessions and special sessions along with workshops and exhibits.
Twenty-seven-year-old Udari has been a Research Assistant at SLTC's Postgraduate Research Unit (PGRU) since 2016 and has been researching and developing spherical robots, which involves the study on design and prototyping, dynamical modelling and simulation, control, motion planning and navigation.
"Udari is one of our most talented Research Assistants and her progress at the SLTC and honour at the prestigious ACC brings honour to the campus and to the country. Her impressive capacity to absorb knowledge and intellectual motivation makes her an amazing role model to our present students," said SLTC Founder President/CEO Eng. Ranjith G. Rubasinghe.
In September of this year, Udari will leave for Princeton University to start on her doctoral programme in mechanical and aerospace engineering.
"I am grateful to my Chairman and Supervisors at the SLTC for giving me the opportunity and encouragement and motivating me to reach for greater heights. My research at the PGRU has been very successful and the facilities and faculty have been amazing," she said.
"I've worked with Udari since 2015 and am continually impressed by her intellectual capacity and interest in mechanical engineering," said SLTC VP Academic Affairs Professor Ashoka Polpitiya.
"She is young and has a fantastic career ahead of her and I wish her all the very best."
The SLTC is the only corporate-powered residential campus, located at the former SLT Satellite Earth Station in Padukka. The SLTC was launched in 2014 to offer engineering degrees and has highly recognized affiliations with world-class institutes such as Lancaster University UK, Deakin University Australia, Georgia Institute USA, Texas Tech USA and Trinity College Dublin Ireland. The SLTC is also accredited by the Higher Education and Highways Ministry and recognized by the University Grants Commission.
In 2015, Udari won the first place at the Undergraduate Project Symposium organised by the IEEE, established to foster technological innovation and excellence for the benefit of humanity and for the advancement of technical professionalism.
She received her B.Sc. in Electrical and Electronics from the University of Peradeniya.