---
Following the successful conclusion of free 'post-paid' public Wi-Fi promotions in February and March, Sri Lanka Telecom (SLT) has launched an islandwide promotion providing free Internet access for all 'pre-paid' SLT Wi-Fi scratch card users via public Wi-Fi hotspots.
This promotion will take place between June 23
and 30.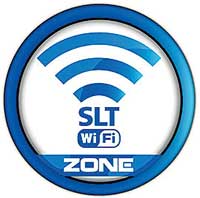 Nearly 200 Wi-Fi hotspot locations will be available for free Internet access to all users who have obtained an SLT pre-paid Wi-Fi card. The SLT pre-paid SSID is accessible from public hotspot locations by use of an SLT pre-paid Wi-Fi scratch card, whilst the data allocated via the scratch card will remain unconsumed until the conclusion of the promotion. The validity period of a pre-paid card will begin at the initial registration for the SLT pre-paid Wi-Fi service.
Pre-paid options consist of three denominations of Rs.100, Rs.300 and Rs.500, which offer 500 MB, two GB and four GB worth of data volumes for durations of 14 days, 30 days and 30 days, respectively.
In the recent months, following SLT's 'Sunday Funday' promotions, which offered free post-paid public Wi-Fi access, the popularity of the brand's Wi-Fi hotspots has increased tremendously. Such initiatives serve as a means of emphasizing SLT's position as the provider of the highest data volume, fastest Internet and best value for money. The SLT pre-paid Wi-Fi promotion offers mobility to the brand's home and office broadband customers and also encourages non-SLT Internet users to acquire an SLT pre-paid Wi-Fi facility to enjoy the very
best experience.