---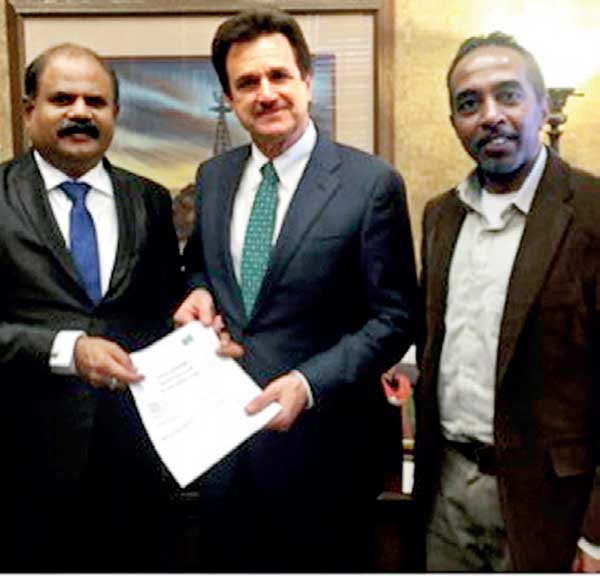 Dr. Lawrence Schovanec, Provost of Texas Tech University with P. G. Sirisena (Chairman of SLT Campus and SLT PLC) and Dr. Ashoka Polpitiya (Vice Chancellor of SLT Campus)
The Sri Lanka Technological Campus (SLTC), a fully owned subsidiary of Sri Lanka Telecom PLC entered into a Letter of Intent (LoI) with Texas Tech University, USA. This exciting new initiative has been taken with the aim of helping to meet the national need for expanding the quality of higher education in Sri Lanka by conducting state-of-the-art undergraduate and postgraduate degree programmes collaboratively with globally reputed and high-ranked universities.
This significant partnership would enable opportunities towards initiating student exchange programmes and staff exchange programmes. The parties intend on progressing towards offering a collaborative 2+2 undergraduate Engineering programme leading to a degree awarded by Texas Tech University, USA. Texas Tech University, USA is a public institution that was founded in 1923.
It has a total undergraduate enrollment of 28,632 students and recently recognized as one of the 81 top tier doctoral universities in US according to the Carnegie Classification of Institutions of Higher Education. It also holds the 168th ranking in the 2016 edition of US News Best Colleges and National Universities. Texas Tech University also stands on the cusp of being one of the USA's premier research institutions and was recently named a Sustaining Member by the National Academy of Inventors (NAI), which is the highest level of institutional membership in the USA and is awarded to a limited number of institutions.
It will open to the university, exclusive benefits for highlighting its research and innovation efforts. SLTC currently offers programmes developed in accordance with the Washington accord (an international agreement among bodies responsible for accrediting Engineering degree programmes), leading to four year Engineering degrees in Electronics & Power Systems Engineering, Electronics & Telecommunication Engineering, Electronics Engineering & Engineering Management.
These programs are designed to provide sound theoretical, practical and analytical knowledge with the fundamentals of Engineering and Technology. The Campus is located at the SLT Satellite Station in Padukka in the proximity of Colombo. SLTC can accommodate students in a comfortable environment located on a sprawling 35-acre property. The campus also has all required facilities including Laboratories, Classrooms, Auditorium and Library. The administrative office and the city campus is based at TRACE expert city in Maradana. The above partnership will facilitate the availability of high quality university programmes. Enrolment for the 2016 April Intake is currently underway.