---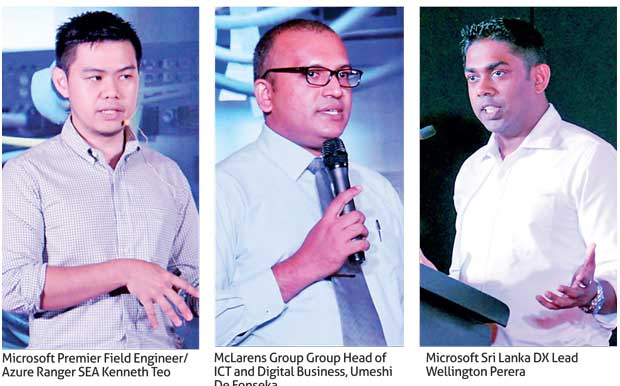 Microsoft Sri Lanka recently hosted an Azure Discovery Day for an audience of start-ups, independent software vendors (ISV) and small and medium-sized business enterprises (SME).
The event unveiled the recent developments and expanded services from the enterprise-grade cloud computing platform: Microsoft Azure.
The event featured live demos, which allowed audience members to experience the versatility and capabilities of Azure, while presentations revealed how the developments could be implemented immediately and seamlessly to work with an existing set of data, tools and infrastructure.
Leading the briefing was Microsoft Premier Field Engineer/Azure Ranger SEA Kenneth Teo. He first introduced Azure's latest cloud development tools or services designed to speed the deployment of software applications.
"Inefficiency accounts for 40 percent of implementations getting reworked because they don't meet the user's original requirements. When coupled with Azure, Visual Studio Team Services (VSTS) removes barriers between teams, encourages collaboration and improves the flow of value. On the other hand, Team Foundation Server (TFS) allows users to maintain their sensitive data within their own network. These services build better apps for any platform, including iOS, Android, Java, Linux or Windows," Teo said.
Later, Teo spoke of Microsoft's plans to bring artificial intelligence into the hands of every non-developer. The initiative included making enhancements to the Microsoft Bot Framework, adding new AI-based cognitive services and a new lab for testing experimental cognitive services, incorporating artificial intelligence into additional products and services.
In an onstage demo, Teo used a web-based app called LUIS, part of the Cognitive Services suite to aid non-developers with the task of natural language (programming) processing. He also showcased QnA Maker, an easy-to-use graphical user interface that extracted all possible questions and answers from a text file to convincingly simulate how a human would behave as a conversational partner.
"With open-source technologies such as LUIS and QnA Maker, Microsoft is investing in technologies that allow local start-ups and SMEs to be more competitive globally," Teo added.
McLarens Group Group Head of ICT and Digital Business Umeshi De Fonseka expressed his support for the services of the cloud-based platform.
"As a diversified conglomerate, a clear overview of what technologies to adopt is important. And in my situation, problems often arise when you're trying to justify IT solutions to an executive management, from boosting our productivity through Office 365 to reducing our capital expenditure via a cost-effective Disaster Recovery backed on the cloud. Microsoft Azure requires no justification. After all, 425 out of the Fortune 500 have adopted it in some way or fashion," De Fonseka said.
Microsoft Sri Lanka DX Lead Wellington Perera providing an overview of Azure Machine Learning said, "Azure Machine Learning is now a fully-managed cloud service that enables businesses to easily build, deploy and share predictive analytics solutions. Businesses can deploy their model into production as a web service that can be called from any device, anywhere using any data source within mere minutes."
Microsoft has made significant investments in Azure to make it the most comprehensive cloud-based platform to date. With over 38 Azure regions, the platform is responsible for over 120,000 new customer subscriptions per month, 150 billion SQL query requests processed per day, 120 billion hits to websites, 715 million active directory users and over 18 billion authentications per week.