---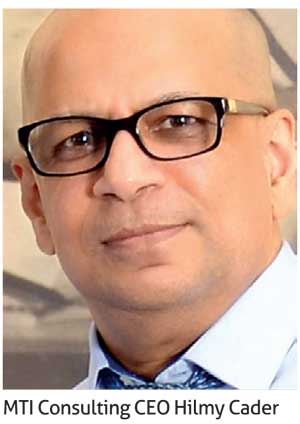 As part of their thought leadership initiatives linked to the 3rd wave of MTI's idea2fund, have proposed and plan to launch a series of Gap-athons, arguing that it needs to precede Hackathons.

Justifying this proposition, MTI CEO Hilmy Cader said: "Gap-athons needs to precede Hackathons - because unfulfilled 'gaps' in the market, in the customer's life and/or in a business is the source of most opportunities. Yes, there will be 'wild cards' but this cannot be relied on as the main source of ideation for start-ups. The process needs to start with 'Ground Zero', then look at the entire value chain and structure of the domain, including converging domains – as the basis of identifying 'pain points. Hackathons can then follow'."

As part of MTI's idea2fund, the company has screened over 300 start-up applications and listened to 85 presentations by aspiring Sri Lankan entrepreneurs. MTI CEO Hilmy Cader advises those thinking of start-ups to: "Pick your domain based on real 'pain points' in the demand or supply chain – not technology looking for a problem. Get the commercial business model right upfront, that is, how will you make money? Not just hoping for an inflated valuation to flog it. Fulfillment is what the end user will pay for – technology is only an enabler. If you look at two of Sri Lanka's successful start-ups in recent times, that is, Kapruka and PickMe, they have got these basics right." He goes on to emphasise that 'Start-ups need more logic, less magic'."

According to MTI Consulting, start-ups, like any business, have two ways of earning a living. Either get the 'customer' to pay for the value you create and/or grab share from another business by doing it better. There is of course a third way, which is to whip up so much hype, create insane valuations (despite fundamentally loss-making business models) and dump it on to someone else. "As long as there are 'take-ups' for such 'start-ups', this can go on. Just make sure you are not the one carrying the pillow when the music stops," quips the MTI CEO.

'idea2fund' – the year round venture competition powered by MTI Corporate Finance is on the verge of launching its third wave this October. Since its inception in 2016, the mission of idea2fund has been to create a platform for prospective entrepreneurs to present their venture ideas, get linked with potential investors, be challenged and receive constructive feedback from pioneers in the respective fields.

The role of conventional business models are being radically transformed by disruptive business models, and 'startups' will soon become the name of the game. MTI believes that this new breed of entrepreneurs will challenge the context of traditional business models, eventually leading to a fundamental change in the way wealth is created, accumulated and invested. idea2fund attempts to harness this talent and provide a platform to convert them into successful business ventures."

idea2fund is open to any individual with a winning venture idea - individually, collectively as a team of choice (two to three members max) or even as an organisation. It mainly targets three groups: Students and early career professionals with the passion to venture out, experienced professionals with a vision to invest their industry expertise more profitably and existing niche entrepreneurs looking to scale up their operations.