---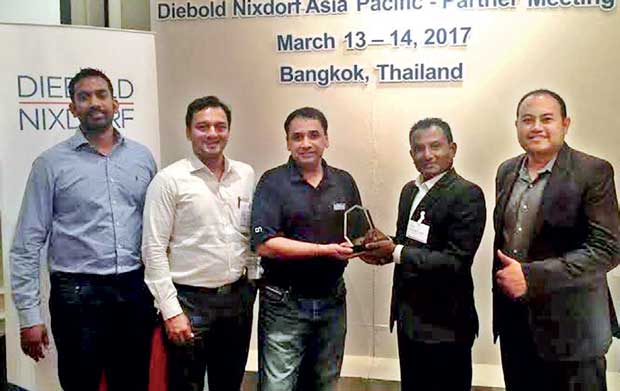 From left: Hiran Wickramasinghe, Group MD Informatics, Pritesh Shah , Diebold Nixdorf, Sachin Handoo, MD APAC Diebold Nixdorf, Shanka Fernando Informatics, Nara NonappaDiebold Nixdorf
Informatics Pvt. Ltd emerged as the top achiever in both Wincor Nixdorf and Diebold partners among ten Asia Pacific (APAC) countries including Sri Lanka, Bangladesh, Bhutan, Brunai, Cambodia, Laos, Maldives, Myanmar, Nepal and Vietnam
in 2016.
Informatics Pvt Ltd was awarded the 'Outstanding Revenue Achievement Award' in recognition of 'Highest Shipments & Revenue Achievement' in 2016 at the Diebold Nixdorf APAC Partner meeting held in Bangkok Thailand recently. Hiran Wickramasinghe Group Managing Director of Informatics Group and Shanaka Fernando, Head of Banking and Finance Business of Informatics Pvt Ltd received the awards at the first ever Diebold Nixdorf APAC Partner Awards .
Established three decades ago by Dr. Gamini Wickramasinghe, Informatics transformed itself into banking and financial services sector specialist with its strategic partnership with Nixdorf Computers andNixdorf ATMs in early eighties. Today, Informatics Group serves the nation with all key aspects of information technology through its systems integration company Informatics Pvt Ltd, software development subsidiary Informatics International Ltd and ICT education arm Informatics Institute of Technology.
Informatics Pvt Ltd is a leading end-to-end Banking and Financial Services Industry solutions provider with a wide spectrum of ICT products andstate-of-the-art technology solutions for the industry. Informatics has endured a journey of multiple acquisitions of Nixdorf ATMs, namelySiemens -Nixdrof, Wincor -Nixdorf and Diebold- Nixdorf. Informatics is the oldest Nixdorf partner in the world still operating under single management since 1984 and continues to serve Sri Lankan banks as the leading ATM solutions and service delivery partner."
Informatics ATM services operated in all districts and reach out to over 2000 customer touch points across Sri Lanka and boasts an impressive service delivery and ATM uptimes track record which helped Informatics to secure all large ATM opportunities in the country over last one year and intern coveted 'Highest shipments & revenue achievement' in
APAC region.
Pioneering the self service revolution in financial services space, Informatics boasts more than 50 percent market share of the installed ATM base in Sri Lanka and has consistently provided excellent island wide post sales engineering services ensuring highest ATM uptimes to all Sri Lankan Banks leveraging its regional presence , skills and expertise built over three decades. Informatics recently pioneered another revolution in banking industry with introduction of cutting-edge Diebold Nixdorf cash recyclers for real-time cash deposits and withdrawals in Sri Lanka.
Informatics Pvt Ltd is one of the pioneer ICT solutions providers in Sri Lanka established in 1983. Over 34 years, Informatics has been providing mission-critical ICT solutions to Sri Lankan enterprises enabling them to meet their strategic business objectives with cutting edge ICT solutions. Its superior after sales services focus has helped Sri Lankan banks to deliver excellent customer experience with high availability of ATMs. Informatics enterprise solutions include enterprise applications, cloud, information security , compute and storage, virtualization , software fefined networks, software defined storage, banking self services ( ATM , deposit and kiosk), media solutions, data center, smart building , smart city etc. etc.