---

In an effort to become a force to reckon with in the Sri Lankan market, Intex Technologies, a leading Indian mobile handset and consumer durables major, has entered into a strategic partnership with the island country's top business conglomerate – Softlogic Communications Pvt Ltd, a fully owned subsidiary of Softlogic Holdings PLC to aggressively target a major share of the nation's mobile handset business market.
The joint-venture is solely for the mobile handset business of Intex namely, feature phones and smartphones.
Intex is an established affordable brand in India, known for democratizing smartphones for all, especially the youth with its innovative, competitively priced products and a superlative service experience. As per IDC's Q4 2016 report, Intex was rated the number one Indian mobile handset player commanding a market share of around 10 percent.
The partnership with Softlogic has been done with the aim of attaining a sizeable share in Sri Lanka that has a market size of 4-5 million handsets annually. This objective will be supported by aggressive marketing and having a strong market presence by working on retail and distribution development.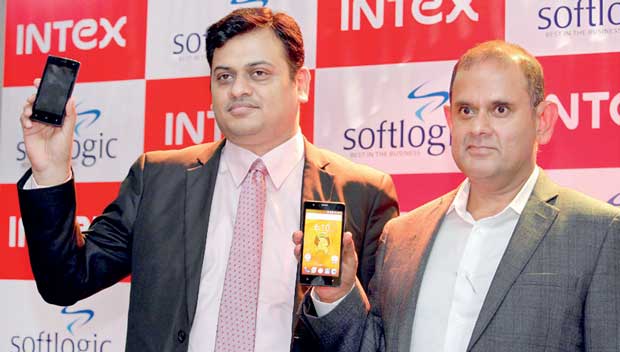 Vishwas Agarwal, Head, International Business, Intex Technologies with Ranjan Perera, Executive Director, Softlogic Holdings PLC launching the latest line of Intex smartphones

Commenting on the partnership, Vishwas Agarwal, Head, International Business, Intex Technologies, said, "We are delighted to start a new chapter in Sri Lanka and with a heavyweight partner like Softlogic with us, we are encouraged and thrilled to gain our footprint in the market. Intex in its first stint had created its market and become a major player, but this time, we have returned as a force to reckon with. We are confident that with our diverse and innovative product portfolio and our name and experience in India, we are bound to garner a major market share in the country's mobile handset business."
Ranjan Perera, Executive Director, Softlogic Holdings PLC said, "We are glad to join hands with Intex Technologies, a trustworthy handset supplier based in India. We are excited to have Intex onboard with us as we expand our brand offerings to our customers.
"Softlogic Communications (Pvt) Ltd., has been a prime player in Sri Lanka's handset market for over two decades. We can capitalize on our strong island-wide distribution network for Intex, making access to the products easier with exceptional after-sales and customer care.
Intex is established as one of the most affordable handset brands with the entry level, smart, and feature phones available at affordable prices. This brand will further strengthen Softlogic Communications' position in the affordable handset market. With Softlogic's brand equity, exceptional customer service and technical assistance and over 2,000 customer touchpoints across the country, we are confident that Intex would thrive in the Sri Lankan market."
On the occasion, Intex and SoftLogics launched a series of 4G-Volte Smart Phones and Feature Phones marking Intex's entry into the market. These include Intex's highest selling feature phone models - Eco 105, Killer+ and Ultra 4000i and its latest smartphone models - Aqua A4 and Aqua Lions 4G.
Brand Intex will be present in the Rs.2,000 to Rs.15,000 price segment, which commands 80 percent of the market. Currently, Sri Lanka has a mix of Korean, Chinese, Indian and domestic players vying for the market.