---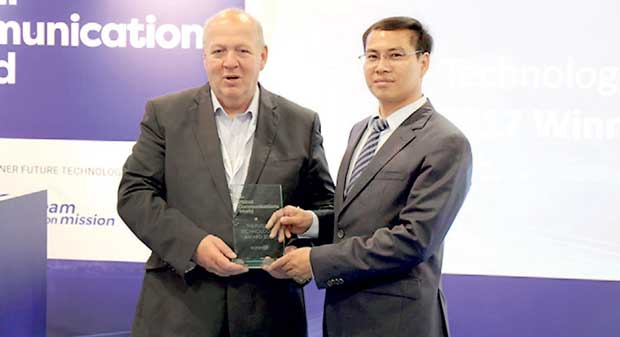 Huawei's eLTE SafeCity solution won the 'Future Technology Award' at Critical Communications World 2017 which was presented by TCCA (TETRA and Critical Communications Association). This honour recognizes Huawei's technical leadership and contribution to continued innovation in the area of critical communications.
Established in 1994, TCCA is the world's foremost authoritative organization in the field of critical communication. Today, the TCCA continues to support and promote the use of trunking communications technologies and is stimulating industrial synergy in the development of future mobile broadband capability for both users and providers of critical communications.
Traditional narrowband communication networks, which support only basic voice services, cannot satisfy today's emergency networks' demands for mobile policing, multi-services, all-round monitoring, intelligent command, and intelligent dispatch. The eLTE SafeCity solution is Huawei's answer to such a challenge. It features convergent command, while encompassing E2E eLTE broadband trunking, broadband data applications, mobile video, wireless video backhaul, and accessory products. This reliable comprehensive solution supports broadband and narrowband communication, service convergence, multiple sensors, and mobile cloud.
Huawei advocates open cooperation and follows a 'being integrated' strategy in seeking innovation in public safety to facilitate the digital transformation of mobile policing. Its contribution to the industry entails three parts, namely standard development, technical breakthroughs, and ecosystem formation.
The future-proof solution meets both the B-TrunC and 3GPP standards and supports long-term evolution for investment protection. As a council member of both TCCA and PPDR (Public Protection and Disaster Relief communications), Huawei is actively engaged in promoting the development of standards to encourage industrial advancement.
Tailored with the needs of each industry, Huawei make use of its technical advantages and successful experiences thanks to years of accumulated experience in the 3GPP telecommunications field, aiming to bring benefits to users in different industries. The releasing of eLTE SafeCity follows last month's unveiling of the eLTE SmartGrid and the eLTE Smart Campus solution at Hannover MESSE 2017. The solution provides convergent command and comprehensive urban safety networks that feature visibility, connectivity, mobility, and accuracy. The reliable broadband trunking can cater for all services, while the eLTE mobile video solution supports non-stop all-around surveillance.
Huawei incorporates an open Application Platform Interface (API) in its eLTE solution to boost cooperation among industry players and advance ecosystem formation. The successful launch of the all-round convergent command solution which integrates voice, video, data, and GIS (Geographic Information System) services in a single network is the result of a joint effort between Huawei and its partners. Multiple police applications installed on each trunking terminal are connected to the central cloud database, which allows more efficient case management, identity recognition, and onsite law enforcement.
Huawei is currently engaged in the extensive roll out of broadband trunking applications. By the end of Q1 2017, Huawei's eLTE broadband trunking has been deployed in over 150 networks across 57 countries.