---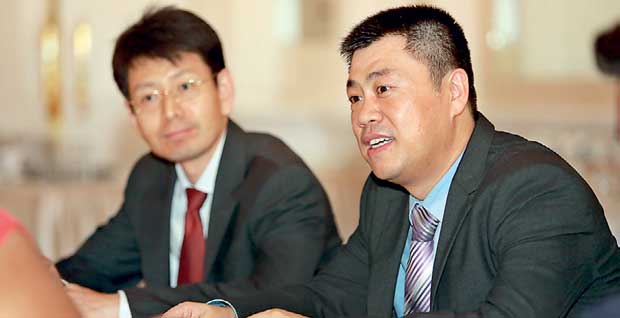 Leading smartphone manufacturer Huawei is aiming to capture 40 percent of the Sri Lankan smartphone industry by 2018 after having been able to successfully penetrate into the industry in a short span of time.

The brand name's dedication towards ensuring the best quality devices are manufactured and their aim towards reaching new heights in the name of innovation and digital development covering the expanse of over 170 countries has elevated Huawei as one of the most well-respected and fast-leading telecommunication companies in the globe.

At the event which took place highlighting Huawei as smartphone sponsors for Sri Lanka Cricket, Huawei Sri Lanka CEO Shunli Wang and Huawei Device Sri Lanka Country Head Henry Liu disclosed that Huawei has come a long way since the brand's arrival into the Sri Lankan market in 2012. He reiterated that the journey looked fruitful for the brand within the Sri Lankan smartphone market, having already secured a market share of over 30.0 percent by the beginning of 2017.

"Currently, Huawei has made it as the fastest growing smartphone brand and we are hopeful we will be holding a position ahead of our competitors very soon. Globally, Huawei has been placed amongst the Top three smartphone brands," Wang stated.

During the year 2015, Huawei had managed to secure a market share of 15.0 percent and the following year, this shot up to 25.0 percent. By the end of 2017, Huawei seeks to secure the number-one spot as the most preferred smartphone brand in Sri Lanka and is confident their reach would be elevated to 40.0 percent by the end of 2018.

Globally, Huawei recorded a 9.8 percent market share for the year 2016 and by the onset of this year, the company had managed to swiftly secure a global share of 13.5 percent. With their aggressive stance in building up brand recognition initiatives, well funded research and development facilities and state-of-the-art technology, Huawei only gets closer towards ensuring there is a particular smartphone device that is available to every type of smartphone consumer out there.

Even when it comes to the subject of utilizing an open market through their dealers, Huawei has built an ecosystem supporting all their dealers, partners, system integrators and suppliers. Huawei also happens to be the first smartphone brand to have implemented service centres in strategic locations dedicated to servicing for their customers.

For Huawei users, those who experience issues with their smartphones are guaranteed an exclusive service that would ensure they have their devices back in less than two working days if done directly through their original dealers. Huawei currently only manufactures all their products in China and customers are guaranteed to obtain a high quality product that is not only stable in structure and performance but has also been built using the latest innovative technological interventions.

Huawei is constantly experimenting and working on new tech breakthroughs that would pave way for even more interesting and attention-grabbing innovations. Before the end of this year, Sri Lankan smartphone enthusiasts will be in for a surprise in the form of another new product launch from Huawei. In 2018, another new member is set to join the Huawei smartphone family disclosed Henry Liu.