---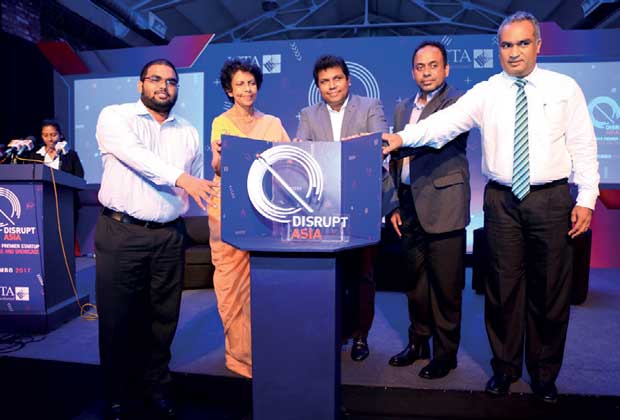 ICTA Project Manager Ahamed Nishadh, ICTA Chairperson Chitranganie Mubarak, ICTA Managing Director/CEO Muhunthan Canagey, ICTA Project Director Arunesh Peter and ICTA Senior Consultant Indika De Soyza launch Disrupt Asia 2017
Pic by Damith Wickramasinghe
Disrupt Asia 2017, a conference and exhibition focused on digital revolution organized by the government's IT facilitation and development arm, the Information and Communication Technology Agency (ICTA) will take place at Hilton Colombo on July 12.
"This is a gathering of the start up ecosystem in Sri Lanka under one roof," ICTA Project Manager Ahamed Nishadh said during the launch of the event at Trace Expert City recently.
Disrupt Asia 2017 will bring together start-ups, experts, business leaders, policy makers and other interested parties to build on Sri Lanka's start up ecosystem, Nishadh added.
Along with the exhibition, Disrupt Asia will include a lineup of academics and experts delivering speeches, workshops, an investor forum and a start-up competition which will include cash prices and workspace for the winners.
ICTA Managing Director/CEO Muhunthan Canagey said that the aim of Disrupt Asia is to foster risk taking and innovating spirits of the Sri Lankan youth.
"Entrepreneurship is not cultivated at a young age through curriculum. So as soon as people come out, people fear failure. That's something that takes our society back because they can't accept failure. But unless you fail, you can't learn from that, and once you learn, you can become better," he said.
He noted that Disrupt Asia 2017 attendees will gain invaluable knowledge on start up funding, legal issues, innovation, and the creation of intellectual property.
ICTA Chairperson Chitranganie Mubarak pointed out that start ups are the key for job creation in Sri Lanka.
"There aren't many jobs that can be created in existing industries and we are promising people more jobs and more opportunities. This can only be done with new innovations and new businesses that come up. So start up entrepreneurship will bring that dimension to our businesses," she said.
She noted that the first edition of Disrupt Asia last year exceeded expectations, and that the second edition aims to build on its success by being more robust and engaging.
Nishadh said that 35 start ups exhibited at Disrupt Asia 2016, and that a similar number will take part this year.