---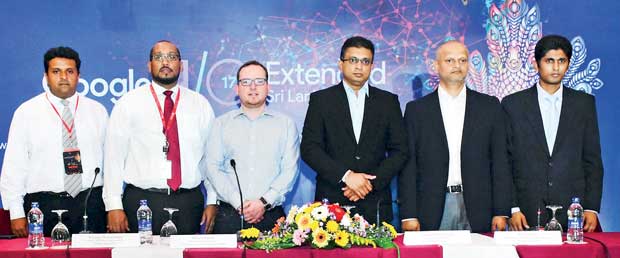 From left: Dialog Axiata PLC Ideamart Services Manager Roshanth Gardiarachchi, Dialog Axiata PLC Head of MIFE and IoT Viranga Senavirathne, GSMA Senior Insights Manager Ecosystem Accelerator Programme Maxim Bayen, Dialog Axiata PLC Group Chief Executive Supun Weerasinghe, Dialog Axiata PLC Digital Services Senior Vice President Fariq Cader and Google Developer Group Sri Lanka Community Manager Tharaka Gunasekara
Google I/O Extended, the largest developer conference organised outside the United States by tech giant Google, took place in Colombo last week as the Google Developer Group of Sri Lanka joined hands with Dialog's Ideamart team for the second consecutive year.
This year's event was further enlivened by the Innovation Exhibition that ran parallel to the conference, which also included a robot battle for the first time in Sri Lanka, providing a platform for robotic engineers to showcase their talents to the world.
At a media conference held during the event, Dialog Axiata PLC Group Chief Executive Supun Weerasinghe said, "Dialog is privileged to join hands with Google, the GSMA and other partners to showcase local talent in the global arena in what is a truly great initiative.
The launch of the Dialog Smartlife platform is a natural extension to our Global Mobile Award-winning Ideamart ecosystem, which has empowered Sri Lankan tech-talent to employ the power of mobile technologies to enrich lives and enterprises and without doubt will accelerate Sri Lanka's journey towards digitalisation by enabling seamless connectivity for IoTs."
Ideamart is the API and Developer Ecosystem programme arm of Dialog that offers a platform for local tech enthusiasts to use its connectivity infrastructure to build applications. The new Dialog Smartlife platform is also targeted towards the developer community and technology solution partners to support innovations in the sphere of Internet of Things (IoT), which is supported by a Service Creation Environment by the name 'I Say You Do' (ISYD).
This year's programme also included Sri Lankan-based start-up companies looking to enter the international arena with their service offerings. These companies were formed on the Ideamart platform with some gaining international recognition at competitions including venture funding from international institutes including the GSMA, the governing body for all GSM operators in the world.
This year's Google I/O Extended event also saw participation from the GSMA with their Ecosystem accelerator programme, which funds start-up companies in the spec of mobile innovation. The Sri Lanka Association of Software and Service Companies (SLASCOM) was a strategic partner for Google I/O Extended 2017, with Derana TV and techguru.lk coming in as media partners.