---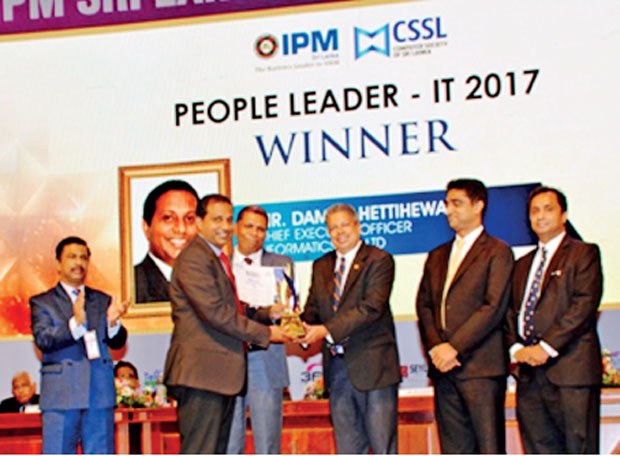 The Secretary of Computer Society of Sri Lanka ( CSSL) and CEO of Informatics Pvt Ltd , Damith Hettihewa was recognized as the People's Leader in Information Technology category by Institute of Personnel Management (IPM) Sri Lanka at the National HR Excellence Awards 2017 held at BMICH recently.

The country's apex body relating to the HR profession, Institute of personnel Management ( IPM) recognizes the personalities who have contributed significantly to human resource development endeavors for the year under review at the National HR Excellence Awards. The People Leaders' category recognizes non HR professionals who have provided visionary leadership to leverage an origination's human capital to significantly boost the organizational performance through people centric initiatives.

Informatics CEO was recognized for the organizational transformation initiative "Change Together" that resulted in enhancing employee productivity and in turn organizational performance under his leadership.

Informatics organizational transformation program was implemented under the guidance of visionary and a pioneer of IT industry in Sri Lanka and Chairman of Informatics Group Dr. Gamini Wickramasinghe and company's board of management.

Yasas V. Abeywickrama , President of Computer Society of Sri Lanka (CSSL) said, The people centric organizational transformation through process innovation and cost optimization was the highlight of the Informatics success story under Damith's leadership.

He has contributed significantly to Sri Lankan ICT industry over a more than a decade and deserves well this award.

CSSL and its membership join congratulating him in this important recognition by country's leader in HR" concluded CSSL President Yasas V. Abeywickrama.