---
Creative Software collaborated with the Swedish e-health innovator PictureMyLife to upgrade and evolve their web and mobile app for children with cognitive difficulties.
Some years ago Lisa Lidgren co-founder of PictureMyLife searched for online solutions that could facilitate communication for children with Down syndrome, but options were scarce.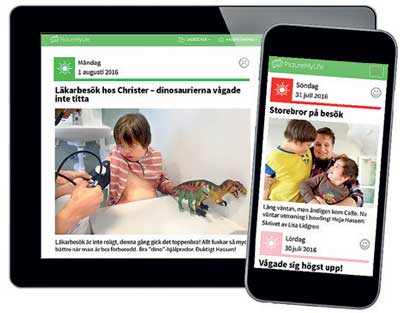 Then, 'over a coffee with her close friends' Maria, Lollo and Yvonne, Lisa decided that they should simply create a solution of their own. That is how PictureMyLife's platform for image-based communication for children with cognitive difficulties was born.
PictureMyLife's platform allows users – usually parents or teachers – to upload images and text via diaries and invite select audiences to view and comment on them. The pictures featured in the diary help the childremember and retell stories of their day.
"We offer digital communication and planning tools customised for people with cognitive difficulties such as ADHD, Down syndrome, autism and dementia," explained Lisa.
After publishing the first version of the digital communication tool, Lisa and her team turned to Creative Software for further development of web and mobile apps.
"Clearly, this project means a lot to us, so we sought a partner that can share our passion and contribute to further development of new digital tools. That is why we turned to Creative Software," she concluded.
Head of Creative Software's team Damitha Liyanage thinks it is an honour to be involved in this project.
"We are passionate about developing software that matters and are already involved in developing systems that fight online child abuse and a platform that helps the elderly receive and track their medication," said Liyanage.
"PictureMyLife gives children with cognitive difficulties a voice and helps integrate them into their communities. This is a really inspiring project and we are excited to be part of it," he concluded.
Creative Software, founded in 1999, is a pioneer and leader in Sri Lanka's software industry. Today the company works with clients around the world and develops its own award-winning products.