---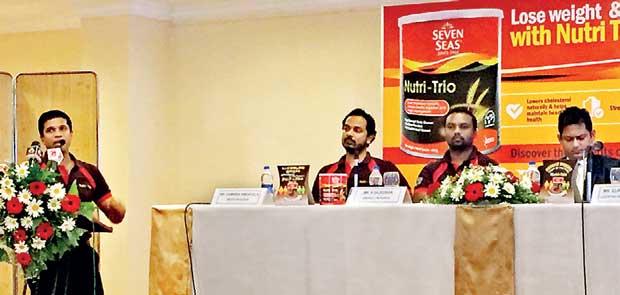 Soluble fibre has always been seen as a great natural choice that lowers blood glucose levels, reduces cholesterol and prevents obesity.

Although soluble fibre is found typically in legumes and vegetables, oat bran, which contains beta glucan, is considered the best source of soluble fibre with tremendous health benefits. In studies conducted at the Faculty of Medicine at the University of Toronto Canada in 2011, the benefits of beta glucan in fighting obesity were confirmed as considerable, when combined with a healthy lifestyle of moderate meals and exercise.

Seven Seas Nutri-Trio, launched recently in Sri Lanka as a naturally derived nutritional supplement, contains high strength beta glucan from oat bran, CoQ10 and fibersol. Recognised as a nutritional supplement that can successfully encourage weight management, Seven Seas Nutri-Trio contains a unique blend that encourages good health. As confirmed by many studies conducted on its effectiveness, beta glucan can reduce obesity and lower blood sugar and cholesterol considerably. In addition, fibersol contributes towards optimal intestine functions which reduces constipation.

Nutritionists believe that what makes beta glucan so effective is the fact that it can absorb water and expand as a gel, which creates a feeling of being full. oat bran can absorb 25 times its volume in liquid form on average while a tablespoon of oat bran, about half an ounce, can turn into a ball of 13 ounces in the stomach, enhancing its impact on satiation considerably. Given its powerful properties, experts consider oat bran beta glucan to be beneficial in the prevention, treatment, and control of diabetes, cardiovascular diseases, cholesterol and obesity.

"Seven Seas Nutri-Trio containing beta glucan can be effective when taken as a nutritional supplement to compliment a healthy lifestyle of moderate eating, exercise and rest", says Hemas PharmaceuticalsSeven SeasCountry Business ManagerElroy Fernando"As more and more people consume processed or fast food, engage less in exercise and spend stress filled lives, there is a greater need for balanced nutrition and weight management that encourages living healthy."
Elroy says that Seven Seas Nutri-Trio can be consumed easily with warm milk or can even be sprinkled over a soup or a salad.

As obesity increases and non-communicable diseases such as heart disease and diabetes linked to obesity show a high growth pattern, considering the options of managing weight by changing dietary habits is becoming more and more relevant. Including Seven Seas Nutri-Trio in a daily diet along with healthy meals, along with at least 30 minutes of exercise, getting adequate sleep and rest while minimizing stress levels can be beneficial towards developing a healthy lifestyle.