---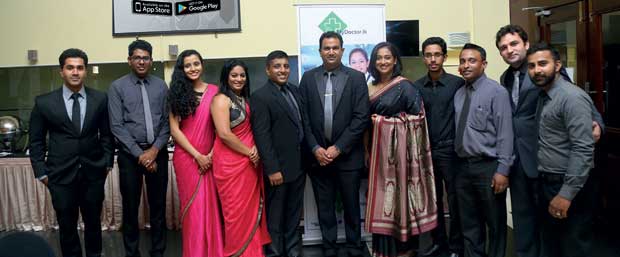 MyDoctor.lk, a leading digital healthcare solutions provider who revolutionized medical diagnosis and treatment in Sri Lanka with latest technological advancements, has launched yet another unique mobile app for the doctors for the 1st time in Sri Lanka.
The latest innovation is expected to further strengthen the doctor-patient relationships in Sri Lanka which MyDoctor.lk has been successfully building in a technologically advanced environment since their inauguration 5 years ago.
This doctor-patient interactive app provides access to Doctors to upload diagnostic observations, medical reports and any other relevant information and data securely in to the health vault of the app.
This new mobile technology will provide the registered users to access the availability and time schedules of general practitioners in and around the area of the patient. Patients can search by the doctor's name, by the name of the medical center/clinic, or area wise. After physically visiting the doctor and having your questions and queries answered during the consultation process, the patient can be issued with a prescription by the Doctor for treatment if require. The doctor can upload the medical lab reports as well as the issued medicine prescriptions to the patient's health vault.
The customer app previously launched by MyDoctor.lk will provide the registered members the opportunity to securely upload and share their medical records and reports with their doctors connected through the doctors' app via the health value of the app, whilst maintaining highest level of confidentiality. It ensures easy direct access to your past medical histories with any of your trusted medical professionals treating you.
"The extremely busy modern lifestyles we see across many segments of our society and the immense popularity of smart phones and their phenomenal usage in all parts of Sri Lanka `including most remote areas have resulted in record exponential growth in usage of our services during the last 5 years we have been in operation" says Dr. Harsha Jayakody, the founder of MyDoctor.lk "Our technological advancements are designed to make quality healthcare affordable and less expensive and convenient whilst adhering to highest medical professional standards to maintain highest level in reliability. With this user friendly appointment system, the patients will substantially save their valuable time spent at the medical centre/clinic to meet the General Practitioner," further elaborated Dr. Jayakody.
Formerly known as eDoctor.lk and established in 2012, today www.MyDoctor.lk is one of the leading healthcare solution provider in Sri Lanka, using a digital platform in order to enable and provide its registered customers numbering over 68,000 with interactive healthcare, utilizing modern technological developments. It helps eliminate the distance barrier and improves access to quality medical services. MyDoctor platform caters to all medical requirements and is a convenient, effective and efficient solution to today's busy and hectic lifestyles. Utilizing modern technology, MyDoctor brings medical solutions to the fingertips of their client. They have also partnered with over 50 leading private hospitals & leading pharmacy chains in the country providing access to even people from most remote areas in Sri Lanka.