---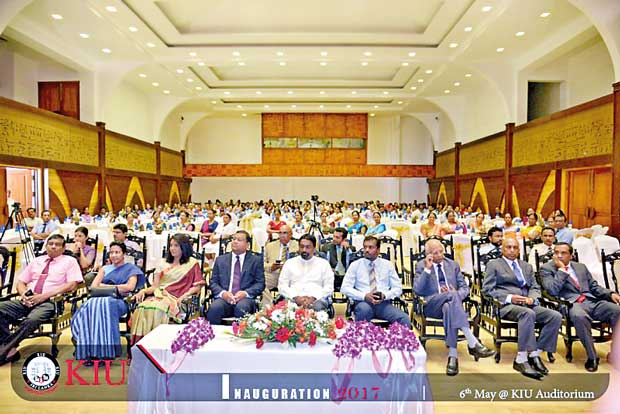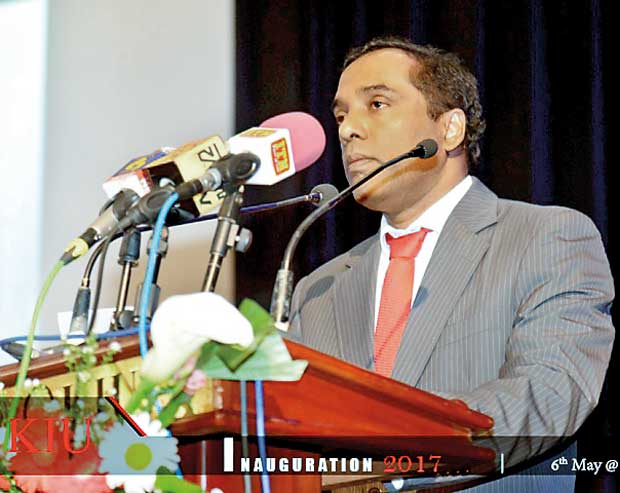 KIU held the 2017 inauguration of BSc. Hons in Nursing, Biomedical Science, Psychology, Management, Acupuncture and Kaatsu degrees and Diploma in Mass Media Management.
This intake reported the highest number of Nursing students thus far which was approximately 200. A remarkable number of students enrolled for BSc. Hons in Biomedical Sciences, Psychology and Management.
The guests were welcomed with a dance performance and after lighting the oil lamp, Honorary Vice Chancellor of KIU Prof. Neluka Fernando welcomed all the distinguished guests, the students and their parents.
The occasion was graced by the presence of Prof. Ashubodha Marasinghe, Parliament Member and Chairman of the subcommittee of the Ministry of Higher Education, as the chief guest.
Prof. Ashubodha Marasinghes gave a speech that took the attention of the gathering, as he suggested initiating a Nursing degree programme which will enable our graduates to migrate to Japan for great career opportunities.
He further mentioned that the KIU Biomedical Science students are fortunate to be a part of world famous research programmes such as 'Sakura Science Project' enabling them to accelerate their career goals as scientists.
Saman Rathnapriya, the President of Government Nursing Officers' Association also delivered a valuable speech, emphasizing how KIU enhance the knowledge and skills of Nursing profession and thereby doing a great service to the health sector in Sri Lanka.
Thoriq Ali Luthfee, the Deputy Minister of the Ministry of Defense and National Security in Maldives, pointed out that an institute such as KIU, has a great potential for international relationships, especially with Maldives. Maldivian student registration for the nursing degree programme of KIU has increased with each intake.
Lalith Weerathunga, former presidential secretary, Chief Advisor, KIU, and chair of University court mentioned in his speech that head hunters from foreign countries such as USA, are already at our door step looking for talented students. Dr. Jagath Senevirathne, the CEO and Managing Director of KIU, stated that he will give his utmost dedication to develop KIU and take it to the highest level where it will be a leading University in Sri Lanka as well as in the world, which intern will benefit the country.
Many other respectable invitees graced this occasion including Perry Weeny, Sri Lankan representative of International Manpower Corporation in USA E.K.P. Pushpamali, Co–Secretary of Sri Lanka Society for Medical Laboratory Science, Dr. J.M.W. Jayasundara Bandara, the Director General of Health Services, M.B.C. Samanmali, the Director Nursing in Medical Service, Madawa Dewasurendran, the Additional Secretary – Ministry of Higher Education, and Keerthirathna Wanasekara, Sri Lanka Nurses' Association and Principles of the college of Nursing Kaluthara.
KIU gave a full scholarship to the student who ranked all island 1st place among the nursing training schools 2012 A batch, symbolic distribution of text books to the students was another significant event in the inauguration programme. Students of KIU made the event colorful by their excellent performances in singing and dancing.