---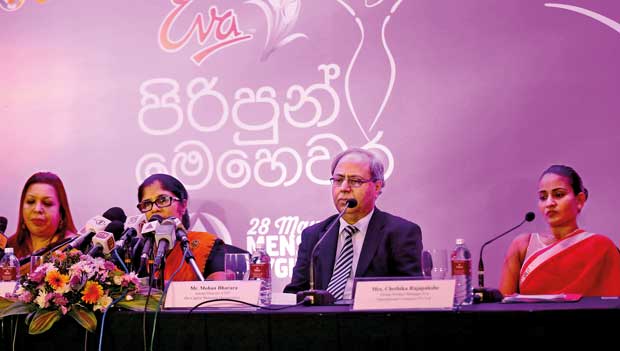 Eva, Sri Lanka's leading sanitary napkin brand, recently launched their initiative 'Eva Piripun Mehewara', with the aspiration to empower Sri Lankan women to lead with confidence in everything they do.
The campaign, which was launched to coincide with International Menstrual Hygiene Day 2017, will be carried out in partnership with the Ministry of Women & Child Affairs and the National Child Protection Authority of Sri Lanka. It aims to create awareness about the importance of improving menstrual hygiene standards among females and to also improve the standards of sanitation facilities across the country.
Through 'Eva Piripun Mehewara', Eva will conduct programmes at schools to educate girls on feminine hygiene, on leadership and on how to prevent child abuse. They will carry out workshops for rural women on the topic, build girl-friendly toilets for schools across the island and distribute free sanitary napkins to both women and school girls in those areas. In addition, the brand will take out the message on good menstrual hygiene practices to the masses through a mass media campaign.
Through these initiatives the brand hopes to increase awareness about menstruation related issues among women in Sri Lanka, educate women about puberty, menstruation and the importance of menstrual hygiene, initiate menstrual hygiene management at a school level and educate women on use and disposal of appropriate products to manage menstruation across the country.
Speaking on the initiative Group Product Manager, Feminine Hygiene - International Cosmetics (Pvt) Ltd., Chethika Rajapakse said "A woman plays such a pivotal role in her family. She is a caregiver, a nurturer and a provider. She is a mother, wife, daughter and sister. Her menstruation, which is a very natural physiological process, should not hold her back in life or get in the way of her endeavors. However, if it is not managed carefully and hygienically, a woman's monthly cycle can lead to complications that would have otherwise been evitable. This is why we wanted to take the initiative to educate women both young and old about proper sanitary practices and to also uplift the standards of sanitary facilities targeting females all over Sri Lanka through 'Eva Piripun Mehewara.'
While menstrual hygiene and menstruation related concerns are relevant to more than 4.2 million women in Sri Lanka, the culture surrounding the topic, which remains somewhat closed up, tends to sideline the issue. Studies indicate that only around 30 percent of them use sanitary napkins to manage their monthly cycle. A large segment of the female population still resort to unconventional ways to tackle menstruation related matters which results in other complications such as developing yeast infections, a dip in school attendance among female school goers etc.
Expressing her views on the initiative, Chandrani Bandara, Minister of Women and Child Affair, said, "A woman is the lifeblood of her family. She is an individual who considers her needs as secondary and devotes her time and effort for her loved ones. This is why her comfort and health is so important for the wellbeing of her family. As a government we consider it important to give her the empowerment and protection she requires and deserves. We believe that this initiative led by Eva will support us to fulfill those requirements and improve her health and quality of life."
Usage of sanitary napkins and hygienic practices related to menstruation, especially in the rural areas of Sri Lanka, remain unsatisfactory. This is not only due to lack of awareness and education on the topic but also due to the lack of proper facilities such as water supply to toilets, facilities to change and safely dispose used sanitary napkins, non-availability of sanitary napkins at schools etc.
Eva is the leading sanitary napkin brand in Sri Lanka with a market share of more than 75 percent. A product of International Cosmetics (Pvt) Ltd. (ICL), Eva has been providing Sri Lankan women with sanitary needs for nearly 30 years. Eva combines the best raw material sourced from leading suppliers across the globe with the state-of-the-art international technology in their manufacturing process in Sri Lanka.