---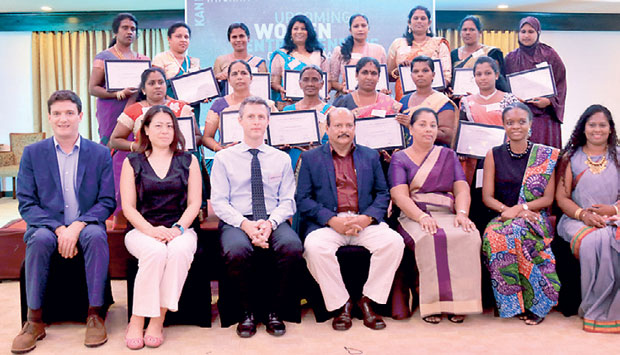 As part of the 7th Professional and Career Women Awards 2017, Women in Management (WIM) and IFC, a member of the World Bank Group, hosted a panel discussion 'Women Leadership for the Changing World' in Kandy, where five women who have championed the corporate sector as leaders, who are also WIM awardees, shared their experience in their journey to success.
This was followed by a mini awards ceremony – 'Upcoming Women Entrepreneurs of the Year Awards 2017', to recognize women entrepreneurs from seven districts in Sri Lanka, as to how they seized the opportunities and overcame future challenges in their careers, businesses, and everyday lives.
The discussion comprised a distinguished panel including Kasturi Chellaraja Wilson, Managing Director of Hemas Pharmaceuticals/Hemas Logistics and Maritime Cluster; Sonu Grover, Managing Director of Coca-Cola Sri Lanka; Chandi Dharmaratne, Senior Director of Human Resources for VirtusaPolaris Sri Lanka; Dayalanie Abeygunawardena, Chief Operating Officer of Janashakthi Insurance; and Ramya Weerakoon, Vice President of InfoTech – all of whom have achieved remarkably as women corporate leaders in the country.
The inspiring discussion was followed by an award ceremony to celebrate the achievements and experiences of 13 upcoming women entrepreneurs from seven districts of Sri Lanka, namely Kandy, Anuradhapura, Mannar, Vavuniya, Hambantota, Ampara and Batticaloa. This initiative was primarily undertaken to showcase the untapped potential of a larger and more inclusive pool of talented women in Sri Lanka, who could be brought into the local and international spotlight for the benefit of all.
Speaking at the event, Sulochana Segera, Founder and Chairperson of Women in Management said, "The Upcoming Women Entrepreneurs 2017 program is another initiative by Women in Management and IFC to highlight the inspiring stories of successful Sri Lankan women. In fact, two of our panelists are not only distinguished in their own right, they are also winners at previous Professional and Career Women Awards, which makes their stories and advice directly relevant to participants, giving them added stature as role models to look up to."
The event was attended by Sarath Ekanayake, Chief Minister of the Central Province of Sri Lanka, members of the provincial council, women entrepreneurs, divisional secretariats of the respective districts as well as by students from the University of Peradeniya.
The 13 women entrepreneurs that were recognized as the 'Upcoming Women Entrepreneur of the Year 2017' were:
Batticaloa - Nesaiah Seethaluxshmi (dairy farming); ML Risana (AKRAM Bites & Chips business venture); and Mani Manjula Manidhiwanan (NACHIYAR' Traditional Restaurant business venture)
Vavuniya - Luxmanan Jegajothi (palmyrah handicrafts); Edwindias Jegajothy (business in making bags); and Suntharalingam Gantharuby (flower decorations)
Hambantota - Pullaththara Widanagamage Sisiliyana (tissue culture planting); and Wasanthi Karunathilaka (ALOKA Organic Food Products business venture)
Anuradhapura - WTDP Anusha Priyangani Sandamali ('NIMSARA' Tailors & Bridal business venture); and SPS Kumari Sumathipalage (SUSIL Shoe Palace business venture)
Kandy - JRJ Asanka Jayawardana ('BK PRASATH Building Material Suppliers business venture)
Mannar - Prima Croos Gnanarajan (RIYA Fruit Juices & Ice Cream business venture)
Ampara - AK Dilini Maheshika (HADDAKARI Batik Fashions business venture).