---
Well-known trainers Sanjeev Jayaratnam and Kumar de Silva have teamed up once again to host yet another of their popular motivational, skills development and corporate etiquette workshops on Wednesday, May 31, 2017, at Galadari Hotel in Colombo.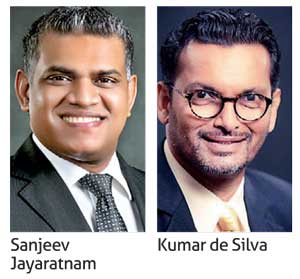 In a specially crafted full-day session titled 'The Smart Professional', these two well-known personalities in their respective fields, share dos and don'ts, tips and secrets on how they maintain professionalism at all times while constantly being in the public eye.
"Communication is not verbal only but rather about projecting a totally professional image at all times. Participants will learn key aspects which contribute to how they look, communicate with others, how they behave in society, how their personality comes across to others. A totally interactive and hands-on session of dining protocol, forms an interesting segment of the sessions along with the rest of the content, which is totally focused on giving practical steps one can follow to become the Smart Professional one aspires to be," say the duo.
The day's programme consists of segments such as: What makes a professional? First impressions count; How to switch on confidence, energy and enthusiasm within a few seconds; Cocktail protocol, Wining and Dining - sit down banquet style and buffet, Communicate with maximum impact - verbal, para-verbal and non-verbal so that people listen and are convinced and Personal hygiene and grooming.
Jayaratnam is a motivational speaker, lecturer, transformational coach, choral conductor, singer and actor and has inspired over 10,000 people to unleash their true potential. Formerly Consulting Services Director for South Asia at IFS R&D Ltd, Services Head at Microsoft in Sri Lanka, he has also worked in senior management positions at Unilever and MIT.
Jayaratnam has led the Revelations, Methodist and Visakha school choirs and the Revelations Academy to win and bring back the most number of international awards in choral music to Sri Lanka. He holds a CITP, MBA (Sri.J), CEng (UK), BSc (Hons) 1st Class (UK), MBCS (UK) and Dip.M (CIM).
de Silva counts 35 plus years of experience working and interacting with hundreds of people from different organisations across Sri Lanka's multi-disciplined corporate sector.
He now shares his experiences (gained both in Sri Lanka and France) and a wide range of soft skills, with Sri Lankan corporates to help them gain confidence, enhance their social performance levels and navigate their personal role in a corporate journey to success.
An English Honours graduate of the University of Kelaniya, he is a Paris-trained television producer and presenter. Photographer and author, he was knighted by the Government of France as Chevalier in the Order of Arts and Letters. Multi-lingual de Silva is also a veteran public relations and media consultant and an award-winning television personality.