---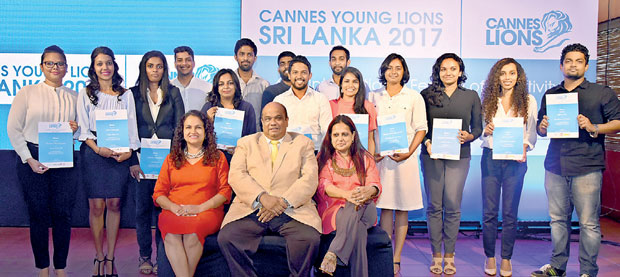 By Zahara Zuhair
Hailed as the 'Olympics of the advertising industry', 13 Sri Lanka's marketing communications professionals will be taking wings to the 64th Cannes Lions International Festival of Creativity in Cannes, France which is to take place this month.
The team will go on to compete in cyber, design, media, print, film and young marketers categories of the Young Lions competitions.
Six teams emerged victorious at the local Young Lions competition, organised by Metal Factor in collaboration with the International Advertising Association (IAA), the Association of Accredited Advertising Agencies (4As) and the Sri Lanka Institute of Marketing.
Cannes Lions International Festival of Creativity Sri Lankan Representative Ranil de Silva said that these Sri Lankan professionals will carry the flag for Sri Lanka when they compete against the best young professionals in the world.
"I hope that they will bring a Lion. They will also have an opportunity to learn, network, expand their horizons and gain valuable new insights from the greatest and biggest festival of advertising," he stressed.
The participants of the competition are as follows; Udara Dharmasena and Havishmi Sivananthan from Neo Ogilvy (Cyber category), Amrit Paulraj and Falul Hallaj from Leo Brunett Sri Lanka (Design category), Achala Ramanayeka and Kumarini Rajakaruna from Dentsu Grant (Media category), Jayana Silva and Aysha Mustafa from Leo Brunett Sri Lanka (Print category) and Causally Kathireson and Sahil Gunesekera from Integrated (Film category).
In the Young Marketer competition conducted in partnership with the Sri Lanka Institute of Marketing, Umeshinie Kurukulasuriya and Ashani Ratnayake from Nestle Lanka won the Young Marketers competition.
An undergraduate from the University of Moratuwa, Samangi Wadinambi Archchi, was selected from students from a cross section of tertiary institutes to attend the Roger Hatchuel Academy.
The Roger Hatchuel programme conducted alongside the Cannes festival is a unique academic classroom type experience which rewards creative individuals.
The festival founded in 1954, is an eight-day programme that focuses on creative inspiration, celebration, education and networking. Over 40,000 submissions in 23 categories are rigorously reviewed by respected industry professionals before the highly coveted awards are presented.
---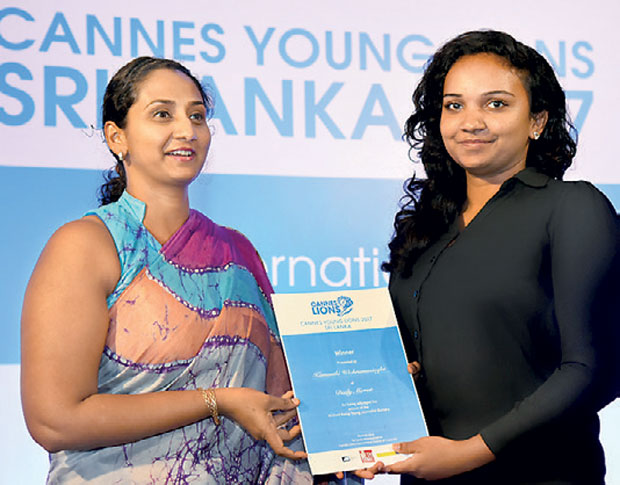 Daily Mirror Journalist to attend programme as special guest
Meanwhile, Daily Mirror Journalist Kamanthi Wickramasinghe, will be attending the programme as a special guest, winning the Micheal König Young Journalist Bursary.
Being chosen among over 100 journalists worldwide, she said that she is hoping to make her county and the institution proud.
"I will be going there as a guest and will be attending sessions there. I will be asked to help in providing content for magazines, television and other media," she said.
The Micheal König Young Journalist Bursary was launched in memory of Micheal König, the German journalist from New Business who passed away at Cannes Lions 2015. The competition was open to young journalists from around the world.
It offers a budding young journalist the opportunity to maximise opportunities, and offers a career kick-start across a diverse mix of media including print, digital and broadcast by attending the Cannes Lions programme.
How the competition had taken place was the applicants had been required to write an essay about the state of the communications industry in their country.
The recipient is chosen by members of the Cannes Lions team, including Jose Papa, Managing Director, Mark St. Andrew, Associate Editor and Liz Moseley, Chief Marketing Officer, Ascential Events.
She is expected to leave the country on 19th of June.