---
Commemorating 20 years of software development and services across the world, hSenid Group Chairman Dinesh Saparamadu talks about the start of his company and the journey towards international recognition.
hSenid currently serves over 400,000 users globally across 18 industries in over 30 countries.
How did you get the idea to start a Human Resource Information System (HRIS) company? Was hSenid the first in Sri Lanka?
When we started back in 1997, hSenid was the first HRIS company in Sri Lanka. Most of the other companies were offering personnel management software at that time.
All this happened by accident.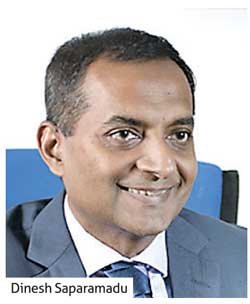 In February 1997, I was at a Rotary Club meeting, having a chat with the head of HR from Shell Gas Lanka Ltd (SGLL), who was also the guest speaker at the meeting and he told me that his company was in need of an HR software system. My reply was, "No we don't have that, but we can build one for you."
What was your journey like to get where you are?
We started with a small office in Ward Place. There were three people working for the company when we began: a software developer, a trainee business analyst who also worked as the systems support person and me. The first few years weren't easy; it was a constant challenge to prove ourselves because we were an unknown company. And the only way for us to do that was to build a system that no one in the local market had seen before. There were a lot of late nights in those first years and that has been one thing that has not changed in 20 years. Even today, our teams work a lot of late nights to complete projects on time.
It has been a very rewarding journey because you get to work with so many people, change the lives of so many people, and be responsible for so many employees and clients alike.
How do you evolve with global trends and technology?
By keeping a very close eye on what is happening outside. That is why hSenid has started moving into FinTec (Financial Technology). Be it the Silicon Valley in the US or India, we pay close attention to the developments in those markets to see if we can adapt ourselves to take advantage of them.
What are the challenges faced by hSenid during the past two decades? How did you
overcome it?
Every day was hard. There were times when we found it difficult to even meet the payroll requirements of the company. Luckily every time there was a hardship, we always believed that we would come out of it and saw these hardships as temporary glitches.
How do you think the company will grow in the next few years?
We are very excited. We have set up a foundation that supports innovation with the core objective being to polish the unpolished gems. We are actively looking to become more global and explore newer areas. The exposure and experience we gain from these endeavors will allow us to get into new ventures and build new things.
Where do you see the HR industry of Sri Lanka in the next ten years, and do you see a potential for growth?
The HR industry is maturing in Sri Lanka. The market still focuses only on the core areas of HR. We need to move towards strategic HR. Individuals, businesses and the nation as a whole will stand to gain from a more strategic approach to HR. The next level is going to be more of emotional intelligence, mindfulness, etc.
An employee may be high in IQ and low in EQ but the HR systems will capture it and build it in the future. People will focus more on health and wellbeing HR rather than compliance and regulatory HR.
What role would hSenid play in the growth of the IT industry in
Sri Lanka?
hSenid Mobile Solutions will extend its heritage of being the connector into the future, by being the conduit that will enable the need for the next generation of people and enterprises to connect seamlessly to each other for purposes of telecommunication, FinTech, wearables and IOT, and creating entirely new user experiences, never seen before.
Given the rapid pace at which growth and development is taking place in the technology arena, the next 20 years are going to be crucial for all technology companies. When technology grows so do our minds. Therefore, hSenid Business Solutions will be at the forefront of change. Emotional Intelligence, Predictive Analysis and Geo Fencing will play a vital role in the HR industry driving towards an
unpredictable future.
How has the global journey been so far? Any milestones that hSenid is proud of?
Global expansion was not easy. We failed the first time. We didn't succeed in Singapore and Japan, but we didn't give up. We have tried, tested, tried again and again. We were successful in our second and our third attempt when we established our first foreign branch in Singapore in 2004.
When it's all over, how do you want to be remembered?
As a person who has inspired people to do their best and to be their best.
Any advice for a startup company or a young entrepreneur?
Always follow your passion and never give up, though easily said and difficult to implement because people always tend to doubt themselves. But it is always important to persevere.