---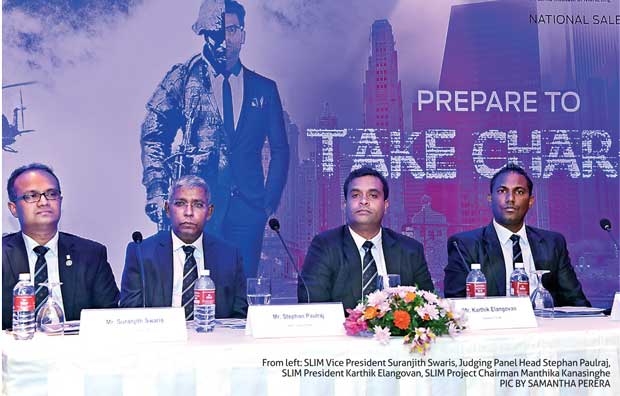 By Zahara Zuhair
The Sri Lanka Institute of Marketing (SLIM) invites entries for the 17th National Sales Congress (NASCO) award ceremony which is to be held in October 2017.
NASCO is a premier event dedicated to the efforts and performance of sales personnel and serves as a platform for companies to identify their top sales performers and motivate sales personnel to enhance and reach higher goals.
The objective of NASCO awards is to motivate and nurture the sales fraternity of the country by enhancing their learning curve in salesmanship.
SLIM President Karthik Elangovan said winning a NASCO award can enhance careers of those nominated as it reflects the value that the company places on them.
As the place of the marketer has become a glamour role in the country, he stressed that it is important to encourage the salesman too to reach higher.
He said that these awards also serve to facilitate cross industry sales learning, impart greater exposure to the country's sales professionals, build confidence among the wide spectrum of participants and comprehensively develop the lordship and presentation skills of participants.
"We expect NASCO 2017 to be an exciting platform for the sales fraternity to network amongst themselves and celebrate their noteworthy sales achievements," he said.
NASCO awards are presented in 15 diverse business sectors under which categories territorial managers, sales executives/sales supervisors and front0liners are recognised.
In addition to gold, silver and bronze awards, best female sales personnel are also awarded under each category.
Organisations can nominate up to two persons under territorial manages sector, four under sales executes/sales supervisors; and seven under front-liners.
Limited liability companies, partnerships and sole proprietorships duly regiestered and carrying out business in Sri Lanka can submit their entries for the awards.
The sectors for nominations are; Fast Moving Consumer Goods (FMCG), financial services and banking, industrial, medical, consumer durables, telecommunication, fashion and clothing, healthcare, modern retail, travel and leisure, insurance, alcohol and tobacco and corporate selling.
The entries are open until June 6, 2017.