---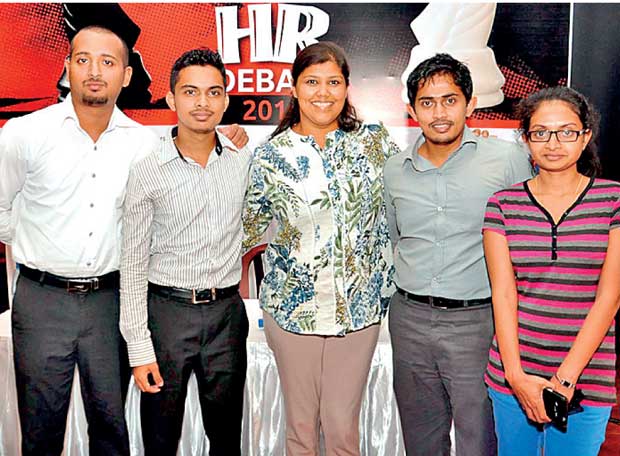 The 2nd round of the Great HR Debate 2016 organized by IPM Sri Lanka – the Nation's leader in human resources management – was held on 26th and 27th May at the Members' Lounge of IPM Sri Lanka head office in Colombo 5.
In the 1st debate titled "Social media recruitment gives better talent, for selection" between blue chip organizations AMW and Pan Asia Bank, the latter won as the proposing team while the Bank of Ceylon team emerged winner of the 2nd debate in their debate against Bodyline (Pvt) Ltd having proposed the topic "Trade unions entice improving employee productivity".
The 3rd and 4th debates were held on 27th May and Midas Safety as the opposing team emerged as the winners at their debate on the topic "Contemporary technological developments, build stress at workplace" against Melsta Regal Finance Ltd while GlaxoSmithKline SmithKline Beecham (Pvt) Ltd won their debate against Citizens Development Business Finance PLC who were the proposing team for the topic "Social media at workplace, creates engaged employees".
The winners of the 2nd round namely Pan Asia Bank, Bank of Ceylon, Midas Safety and GlaxoSmithKline SmithKline Beecham (Pvt) Ltd will now move to the semi-finals to be held on 8th June at the same location. Each debate was judged by a 3-member independent panel comprising of academics and professionals. Accordingly, Samantha Ratnayake, Mahendra Silva and Meditha Karunatilake judged the debates on 26th while Prof. Gamini de Alwis, Nilanthi Jayatilake and Tanzi Samsudeen were the judges for the debates on the 27th.
The Great HR Debate currently is Sri Lanka's only corporate debating championship dedicated to the human resources management sector.