---
The FMCG arm of C.W. Mackie PLC, Scan Products Division successfully completed their Annual Sales Conference 2016,which took place on 6th and 7th May at Club Palm Bay Hotel, Marawila.
According to the Company spokesperson, this was a residential sales conference, which was organized to achieve three main strategic objectives: to provide a training opportunity, award and recognizethe achievers and preview the objectives of the next financial year.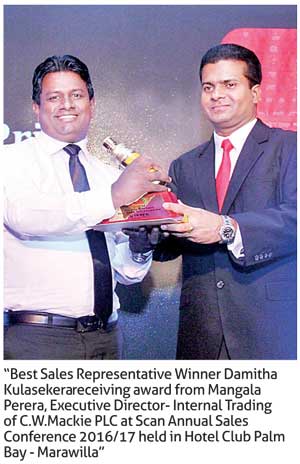 The most momentousand colorful itemin the agenda of the entire event was the award ceremony, where the Scan field sales force recognized sales professionals who delivered outstanding performances and awarded them with Star Awards.
The high performing field sales force members who went beyond the boundaries of assigned targets during last financial yearwere awarded at this glamorous evening, encouraging others to endeavor to be proud recipients of the awards in years to come.
The Gold Award was presented to Damitha Kulasekara while the First Runner-up - Silver Award was awarded to Samantha Perera and the Second Runner-up - Bronze Award was awarded to Ruwan Senarathne.
The training sessions were organized under two different scopes,namely technical sales training and motivational and leadership training, which were well conducted by two reputed cooperate trainers.
The whole objective of organizing these tailor-made training sessions wasto uplift the skills and groom the sales team to take on challenges and future leadership opportunities.
The Annual Sales Conference was the platform to unveil the Business Plan for the new financial year 2016/17 and preview next year's objectives and set up the strategies to achieve the set targets."Growth Together- Stronger>>Sharper>>Faster"" was declared as the theme of this year.
Commenting on this occasion Mangala Perera, Executive Director of C.W. Mackie PLC said, "This year's Annual Sales Conference marks another remarkable milestone. If I recall correctly, five years back Scan Products Division functioned as a small business unit within the C W Mackie PLC group of companiesand with the passage of time and its aggressive business driveit has made a huge difference within the group. Today,it has become the money –spinner of the entire business of C.W. Mackie PLC by contributing more than 60 percent to the total group profitability.
I am proud of the achievements and I must say it would be a nightmare without a dedicated sales team like ours.
The Sales Conference is an opportunity to recognize accomplishments during the last financial year, review their progress, identify the draw backs and how to address them, set new targets for a new financialyear and finally how to succeed and achieve common corporate objectives.