---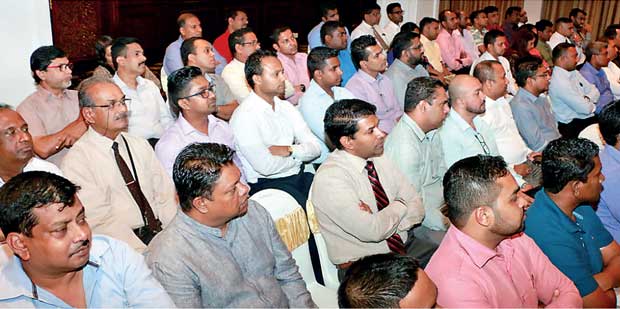 The SLIM Experience Sharing Forum (ESF) was held in March this year featuring CEO/Founder of Harpo's chain of restaurants and cafes, Harpo Gooneratne.
Gracing the occasion as the guest speaker Harpo made an insightful speech on 'Building a Brand with an Appetizer'.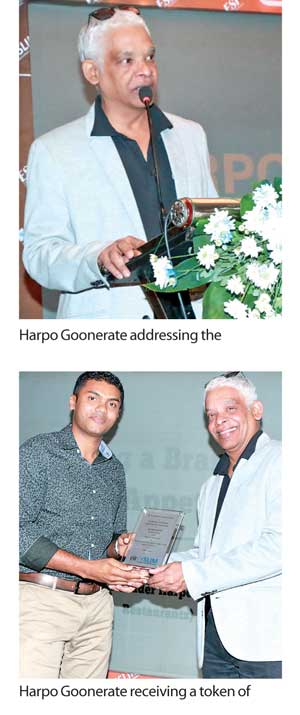 This latest ESF organized by SLIM was held at the Kingsbury hotel in March.
SLIM - ESF featured a high profile speaker who elaborated on his success story and shared his knowledge and experiences with the participants who represented SLIM's professional members, corporate sector personnel and businesses owners.
Addressing over 100 participants including SLIM professional members and invitees from the corporate sector, DJ-turned-restaurateur Harpo explained how he used his potential to convert his name into a 'Brand' and to become a successful entrepreneur. He spoke of his humble beginnings and how he followed his dreams and made them come true.
"Do only what you like with passion. Then money comes your way automatically. Sheer dedication, understanding and practicing basic customer service requirements are the key to success. Please your customers at all times and success will be forthcoming. I try my best to have one-on-one contact with my customers and offer a personalized service to them", said Harpo.
"I was in the show-business hence 'music' is in my blood. As a DJ that's what I did for decades and I still do DJ for fun since I love people and music. I bring that attribute and approach to my restaurants and always make sure my customers are happy", he added. Harpo said he revolutionized the DJ sphere in Sri Lanka at its inception and set a trend for others to follow before venturing into the food business. He shed light on the opportunities and challenges he was exposed to while venturing into the restaurant business and how he had made use of opportunities and dealt with challenges with the right spirit.
The core message in Harpo's insightful speech provided vital insights to the audience on being passionate about the job and customer satisfaction.
"Once being an ordinary DJ on a push cycle, I built the Harpo brand over the years and had a passion for it. Now the brand Harpo is presentin the minds of people", said Harpo Gooneratne.
"Yet, you have to nurture your brand carefully, it cannot be built overnight", he added.
Harpo said his love for music, good food and connecting with people made him a brand to reckon with.
He said, he always harped on creativity and worked towards having an edge in the competitive spheres he is involved in.
The audience was delighted to witness Harpo Goonerate launching his quote for the very first time at this event that was; 'Two things that are positive and uplifting to the soul are music and food… bringing people together, and that is what inspires me'.
Making the welcome speech the 2016/2017 President of SLIM,Upul Adikari highlighted the importance of having business magnates like Harpo Gooneratne at the SLIM – ESF forum to shed light on their success stories. He said ESF provides professional marketers with vital clues to fine-tune their businesses to be more dynamic and sustainable.
"Harpo has braved odds to become a clever businessman. His ways are different but very customer friendly. This customer friendly and passionate nature of his from the days of being a DJ has helped him to reach the zenith of his chosen field of business. SLIM professional members are lucky to associate with highly successful individuals like Harpo at ESF and grasp their philosophies and incorporate them", said Adikari.
He also expressed gratitude to fellow sponsor People's Bank for supporting the event.
SLIM,the national body for marketing and the foremost mentoring institute in marketing in the country is dedicated to elevate the status of marketing in Sri Lanka.
The credible and value adding training programmes, tutoring and multiple support sessions of SLIM are endorsed by the marketing fraternity and the corporate sector in Sri Lanka. As an invaluable mentoring entity, SLIM conducts all its courses, training programmes, forums at affordable prices.