---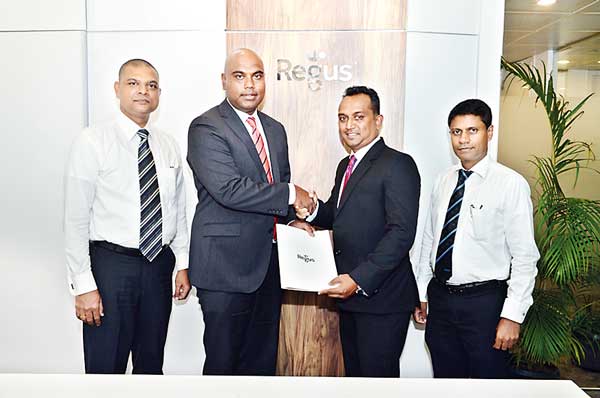 From second from left: Regus Country Manager Dr. Nirmal De Silva exchanging the agreement with SLIM Hon. Vice President Pradeep Edward in the presence of SLIM Executive Director/Chief Executive Officer Sanath Senanayake and Regus Sri Lanka and Membership Services Manager Chamil Wikramasinghe
Regus Sri Lanka has entered into a strategic tie up with the Sri Lanka Institute of Marketing (SLIM) with the aim of offering SLIM members and students with the opportunity to peruse Regus' entire product and solutions portfolio through special discount incentives.
The sign up was held at a ceremony at the Regus Business Centre at Parkland Building in Colombo 02, the latest of the Regus locations in its Sri Lankan network.

The venture with SLIM stamps another big step for Regus as the company believes that encouraging marketing professionals and students to adapt to flexible workspace solutions would only assist with increasing work productivity and allow professionals and marketing students to become more efficient as a result.

SLIM is the national body for marketing professionals in Sri Lanka and acquires undoubtedly the highest membership base for marketing professionals in Sri Lanka. Commenting on the endeavour taken up by Regus for SLIM, Regus Sri Lanka Country Manager Dr. Nirmal De Silva said, "Being part of the premier marketing body in the country, SLIM members will now have the opportunity to avail themselves with special offers which will be made available to them at any of our six business centres located in Sri Lanka. Our plans to expand the network further will help SLIM members to derive the great benefits of the flexible workspace revolution created by Regus.
SLIM President Ruwan Liyanagamage commented, "The business arena is becoming competitive and challenging by the day. Organisations strive for cosy bottom lines and individuals for better perks. In order for them to be competitive they should appeal to the right audience and allow the right audience to reach your business. Having a work place in a prominent location, in turn will add value to your clients as well as the staff. I would say Regus is hitting the bull's-eye by bridging the need for a quality space and location. That is why Regus has gained its name as the largest global workspace provider and we are proud to join hands with Regus."

"Regus took a bold decision to join hands with SLIM to introduce its amenities to marketers in the industry who could immensely benefit by their services. I must offer my sincere gratitude to Regus top management for identifying the need that has arisen in the Sri Lankan organisations and marketers by giving them the best solutions through SLIM," stated SLIM Vice President Pradeep Edward.
"Regus has been providing its services world over for decades. Many organisations and individuals have benefited from its innovative solutions. Through signing this tie-up not only Regus and SLIM, but also students and members would benefit. We have a large student and membership base and this affiliation will certainly help all of us," added SLIM CEO/Executive Director Sanath Senanayake.
Regus, the largest global workspace solutions provider, with solutions ranging from offices dedicated to freelancers, start-ups and even multi-national companies. The workspace solutions provider is apt in conducting research on a global-wide basis and has embraced the fact that flexible work is the way to go.

Regus Business Centres are currently located at tactical points in close proximity to significant commercial establishments and other relevant city landmarks. The worldwide Regus network acquires a set-up of over 2,600 business centres in 106 countries providing expedient, high-quality and fully serviced workspaces for people to engage and work in for any preferred
period of time.
Regus was founded in Brussels, Belgium, in 1989 and is currently based in Luxembourg and listed on the London Stock Exchange.

SLIM is the national body for marketing in Sri Lanka and has been promoting marketing excellence and elevating the status of marketing since 1970. It is a member of the National Chamber of Commerce of Sri Lanka (NCCSL), Organisation of Professional Associations of Sri Lanka (OPA) and Federation of Chamber of Commerce and Industry of Sri Lanka (FCCISL). Internationally it is affiliated with ESOMAR, the Federation of Marketing Research Industries and is a member of the Asia Marketing Federation (AMF), which is affiliated to the World Marketing Association.