---
Ceylon Tobacco Company (CTC) takes great pride in bestowing the company's highest honour, the Chairman's Award, upon an employee who has performed exemplarily through contributions that strengthen and further the company's organisational objectives.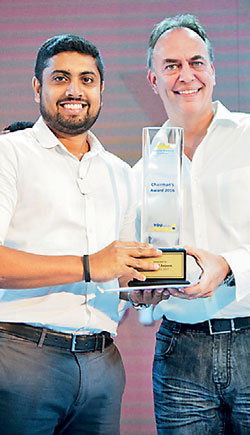 Keeping to this honoured tradition, the Chairman's Award for 2016 was presented to Brands Manager/Planning and Insights Manager, Naveed Anjoon in recognition of his untiring efforts in launching six consumer relevant brands across almost all consumer segments within a 12-month period.
The mastermind behind developing and executing the meticulous cycle plan that made this possible, Naveed was also under immense pressure to deliver on these brands, which targeted the premium consumers segment as well as the price pressured lower segment, with just a two-man team for the task. The normal trend over the years has been to launch just one or two consumer relevant brands in a year.
"It's a great feeling when everyone gives you a standing ovation – I am overwhelmed and so happy to win this award! I was under tremendous pressure throughout the year to achieve these milestones and being rewarded for it makes me happy as it shows that your hard work has been recognised – my passion was to get these done and put in 300 percent, which I'm really proud of," stated Naveed when expressing his thoughts on the achievement.
He also added that it would not have been possible without the unending support from his teammates and other colleagues: "You can't achieve this on your own. It was a collective team effort, especially my team, trade marketing team and the Supply Chain team. I must add that the entire company supported us and had the trust in me that it was all going to happen – it wasn't only the internal colleagues but also the external stakeholders – everyone was stretched and we pulled it through."
Commenting on the award itself, Naveed observed that he feels it is required for a company as it is something people are inspired by. "It makes a big difference, I've felt it and it pushes you to reach greater heights and all organisations should have an award of this calibre."
CTC has been an organisation that has continuously implemented various initiatives that highlight and recognise hard work and innovations by its people, which inspires employees to strive to reach greater heights and shapes their thinking towards working proactively to reach organizational goals.