---
NDB was felicitated with the award for the most innovative use of Training and Development as an HR initiative for Organisational Development and the award for Asia's Best Employer Brand Award at World HRD Congress, Asia Training and Development Excellence Awards held recently in Le Meridien, Singapore.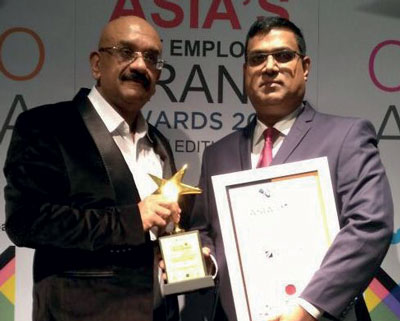 Over the years, NDB has provided more than 800 staff members with recognized banking qualifications fully sponsored by the bank. Such as diploma and certification programmes conducted by IBSL, charted advisory qualifications, management programmes conducted by Postgraduate Institute of Management Alumni. The bank also nominates the Senior Management for Leadership and Management programmes conducted by Oxford and Stanford Universities, NUS, Euro Money and NIBM.

Apart from the typical class room and workshop training methods NDB has a knowledge management system for staff to enhance self-learning which is ideally known as the 'e-learning platform'. Staff has access to over thirty learning modules developed by internal resources on various subject areas. The bank continuously thrives to build the mindset of 'Train the Trainer' concept among each staff member attending a training programme to be able to train their colleagues and subordinates. This is also an encouragement given to staff to be able to share their knowledge of the lessons learnt. NDB also owns a state-of-the-art training centre, well equipped with modern amenities and is made available to all staff to attend trainings.