---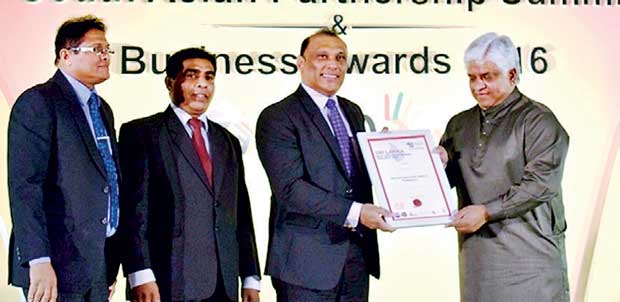 Dr Sujeewa Lokuhewa, Chairman MBSL receiving the certificate from Ports and Shipping Minister Arjuna Ranatunga. T Mutugala, Chief Executive Officer, Dhammika Gunawardhana, AGM Human Resources look on
Adding yet another unprecedented accolade to its name, the Merchant Bank of Sri Lanka & Finance PLC was recognized as one of the 'Best Employer Brands in Sri Lanka,' at the World Human Resource Development Congress, which was organized by the South Asian Partnership Summit & Business Awards.
This award ceremony was held on 13th October, at the Water's Edge, Colombo.
The Best Employer Brand Award recognizes top organizations that excel in building employer brands as employers of choice. Such brands have a distinct identity that is visible through the organization's human resource practices, polices and strategies. Commenting on MBSL's award, the Assistant General Manager Human Resources, Dhammika Gunawardhana said the award demonstrated success in employee integration under the MBSL merger. "We are very proud of our achievement, as this is the harvest that we reap together as a team through visionary thinking, result driven focus, managing and facing challenges and specially great commitment towards making the people integration process a great success," said Gunawardhana.
MBSL has already initiated many strategic HR and people development interventions, such as a 'Leadership development and talent management project,' a new employee career development process, continuous staff competency development, and culture and change management interventions, to enrich the MBSL workforce.