---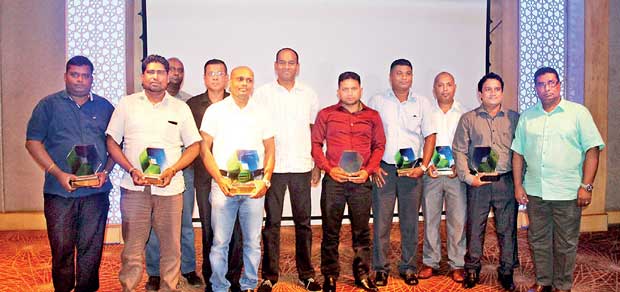 5: Mayooran Puvanasundaram – Tier 1 – 1st runner up,Francis Fernando – Tier 1 – 2nd runner up,Malik Edwin (JKOA Head of Marketing and Business Development & Assistant Vice President, John Keells Group), Priyanath Fernando (JKOA Head of Services & Assistant Vice President, John Keells Group), NishanthaSaman – Tier 1 – winner, Janoda Thoradeniya (CEO of JKOA & Vice President, John Keells Group), Pradeep Chandana (Up & Coming Service provider),
Chandana Silva – Tier 2 – 2nd runner up, Nilan Samantha – Tier 2 – 1st runner up ,Dinesh Peiris – Tier 2 – winner, Prasad Alahendra (Chief Technical Manager, Channels, JKOA)
John Keells Office Automation (Pvt) Ltd (JKOA) hosted its technical service provider network to a day of discussion, performance evaluation and celebration at the Hilton. Following the main programme, high-performing technicians were recognised for their exceptional performance over the last year.
These technicians form a comprehensive network around the island, servicing the office automation solutions provided by JKOA. JKOA is a subsidiary within the Information Technology sector of John Keells Holdings PLC, Sri Lanka's largest listed conglomerate. As a market leader in office automation solutions, the JKOA portfolio offers several internationally esteemed brands such as Samsung, Toshiba and Hitachi. Its service portfolio includes warranty and post warranty support, operating system installation and optimisation, and hardware and warranty extension upgrades.
These services are amply supported by JKOA's technical network, covering all nine provinces in the island. JKOA'sHead of Marketing and Business Development & Assistant Vice President – John Keells Group, Malik Edwin highlighted this during his speech following the morning's performance evaluation, with "your performance over the last year has been instrumental in keeping JKOA at the top of the leader board in this industry. I urge you to continue this good work in servicing our clients with the best."
Priyanath Fernando, Head of Services, JKOA praisedthe technicians' performance and efforts to refine the service process. "Our next goal is to reduce machine down time even further," he noted and his sentiments were echoed by Neville Samaranayake, Head of Sales,JKOA.
The awards ceremony was the highlight of the gathering, with several top performers from Tier 1 and Tier 2 being rewarded for their work. The award recipients included Dinesh Randika Liyanage of ECR Office Automation, Ampara - Best Technician, Tier 1; Prabath Prasanna of TSD Technologies, Gampaha -Best Technician, Tier 2; World Lankatech Office Automation, Monaragala-Up and Coming Service Provider; Techsis Office Automation, Dehiwala- Best Service Provider, Tier 2; and Automation Two, Battaramulla - Best Service Provider,Tier 1. This was followed by a celebration of music and dance.