---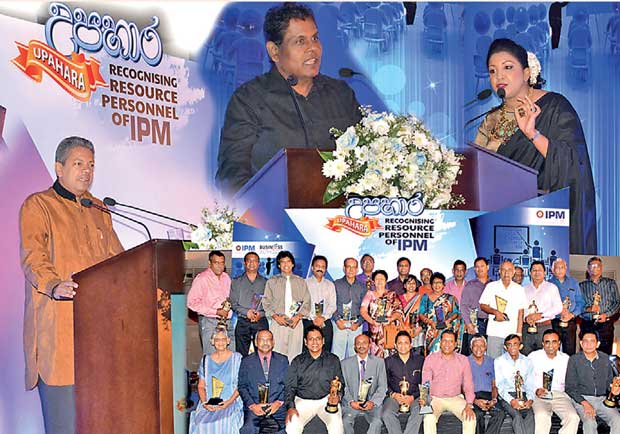 IPM Sri Lanka - the nation's leader in human resources organized the felicitation event 'IPM Upahara 2017' on 30th April at the Cinnamon Grand Hotel to honour, recognize and felicitate the immense contribution being made on a day-to-day basis by the resource personnel attached to IPM whose passion and dedication impact the lives of many.
All resource persons of IPM from the head office as well as its regional study centers in Gampaha, Kurunegala, Kandy, Galle and Negombo participated at the event. The event was organized by Ajith Bopitiya, Treasurer-IPM Sri Lanka Council and Chairman, IPM Upahara 2017 together with the Organizing Committee.
"Teaching, guiding, training and counselling our students at every level to achieve the highest levels of performance and achievement are noble tasks undertaken by our resource personnel on a day to day basis. Their dedication and passion can be largely seen by the growing numbers of students who place their trust in IPM at every level from students who are just embarking on their careers in HR to those at the professional level in their efforts to further enhance and develop their careers in the HR field" said Prof. Ajantha Dharmasiri-President, IPM Sri Lanka and Chief Guest, IPM Upahara 2017.
"It is with great delight and humility that we have organized this event - IPM Upahara 2017 - to recognize and value the dedication, passion and commitment of our resource personnel over the years, and wish you the strength to continue your noble tasks in the years to come" he added.
The IPM Upahara Awards were presented to the resource personnel in 3 categories. These categories were senior resource persons with more than 15 years of service and now retired who have rendered yeoman service during the early years of IPM Business School and have been lecturers, coaches and mentors to most of the present resource persons of IPM Business School, lecturers who have served more than 15 years, and lecturers and invigilators who have served more than 10 years. All other resource personnel who have served less than 10 years were also felicitated and awarded a certificate.
An interesting and timely keynote address on the topic 'Challenges of Educating the Millennial' was delivered by Nadie Algama-Director, Marketing & Strategy, K.I.K. Group of Companies making the event an opportunity for knowledge sharing as well.
The distribution of awards and certificates was followed by fellowship, which gave an opportunity for all staff members, resource persons and IPM members to enjoy the evening and renew their networks.