---
An interview with the Chairman of the IPM National HR Conference 2017 Organizing Committee and Secretary IPM Sri Lanka – Ken Vijayakumar, who shares his thoughts on the importance of South Asia's largest HR Conference and its role as a platform to disseminate and share insights and expert views on topics which are of deep significance to managing human resources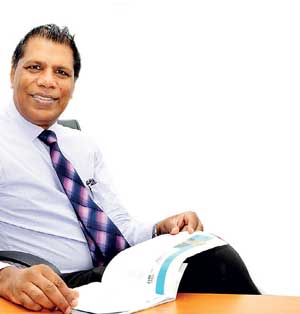 What is the theme of this years' National HR Conference (NHRC) and its importance?
The National HR Conference is the flagship annual event organized by IPM. The conference is the largest HR conference in the South Asian region. It is a much looked forward to event by the HR fraternity as well as people managers in general who consider it to be a great learning experience on current trends in managing people.

The theme of this years' Conference is "Emerging HR Leaders: High Tech & High Touch" and will explore Digitalization, Disruption, Diversity and Design affecting the HR industry. Technological advancement is so rapid and the organizations are focusing on efficient methodologies to enhance productivity and growth.

The technology compliments these initiatives. So we thought it is appropriate to have a timely theme. It is of paramount importance that HR becomes 'high tech' and 'high touch', otherwise the function will become obsolete, as we need to move with technology for business success.

The automation of HR routine functions will make life easy and productive. Globalization has changed the traditional and routine employment patterns, and as such HR needs the digital support to become effective in the dynamic business environment. Further technology is also enabling the virtual offices, e-learning, flexi work arrangements etc. The technology has become a part of human life and you cannot separate it.

We decided on this particular theme to help align HR and people managers to the opportunities and threats that a rapidly changing technological environment can bring to the world of work. Aligning HR strategies with the rapidly changing technological environment offers significant advantages to organizations from a people management perspective.

In addition, HR should not forget to take care of people, nurturing them for the future with proper coaching, counseling and mentoring.

Please explain the objectives of organizing the IPM National HR Conference 2017?
Our objectives for this year's NHRC are four-fold. They are to:Educate the HR fraternity on modern HR practices, Provide insights on New Developments in the field of HR, and Showcase the best practices in HR and Debate current HR topics.

The carefully drawn up agenda and the excellent lineup of eminent speakers who are experts and visionaries in their fields will no doubt help us to achieve our objectives.

What are the four Ds and their importance?
The 4 D's are Digitalization, Disruption, Diversity and Design. The workplace of tomorrow is evolving and that too at a rapid pace. Technological, demographical and societal changes are reshaping the world of work and how we work.

'Millennials' are leapfrogging over the Gen-X and Boomers within organizations on the strength of their ability to integrate into the emerging workplace that is being increasingly dictated by the ever-changing technology, regularly incorporating new devices, programmes, and concepts into the organizational landscape. The face of business leadership too is changing.

As more and more 'Millennials' transition into management roles, bringing with them fresh perspectives on leadership, shaped by their unique exposure, upbringing and influences within a technologically advancing business landscape, their perceptions, values and skills are strongly influencing the leadership within organizations and the business world at large. This changing scenario has presented the world of work an all new management component (the 4 D's), four separate yet intertwined elements that are redefining everything about the corporate world.

What are the other events coinciding with the NHRC 2017?
There are4 other events that are coinciding with the NHRC 2017. They are the National HR Exhibition which showcases the HR products and services provided by technology and services companies, The Great HR Debate which is the only debate dedicated to HR encompassing a series of contemporary topics on the impact of the 4 D's.

The National HR Excellence Awards which recognizes exemplary HR professionals who have demonstrated best practices in HRM with a series of coveted awards that are strongly supported and endorsed by the Sri Lankan HR community, and The Great HR Practices event which is introduced to the proceedings of the NHRC and is yet another 'first" by IPM Sri Lanka. As the country's apex body relating to the HR profession, IPM Sri Lanka strives to promote best practices in the sphere of HR and Learning & Development, and this new initiative "IPM Great HR Practices" aims at sharing proven HR practices with the Sri Lankan business community with a view to adding value to Sri Lankan organizations.

What is unique about the NHRC 2017 as against previous NHRCs?
In this years' Conference, we have introduced the 'Great HR Practices' event where companies are allowed showcase the best HR practices to the HR fraternity. Further, the NHRC 2017 deliberates on the new developments in the field of HRof which one of the most important and disruptive factor is the effect brought about by the entry of millennials into the workplace andthe effects of rapidly changing technology on people management. There will be many more surprises for the HR community and C-Suite Leaders at this years' NHRC as it will discuss the futuristic nature and role of HR.

Who is the keynote speaker at the NHRC 2017 and why did you choose him?
The keynote speaker at the NHRC 2017 is Dr. Ravi Fernando. Dr. Fernando is the Chairman/CE of Global Strategic Corporate Sustainability Pvt. Ltd. and Executive in Residence - INSEAD Business School (France). He is a Sri Lankan scholar, who has proven experience in people management. He is also being CEO/Managing Director for Multinationals. Currently, he serves as a member of INSEAD which is a great honour for all Sri Lankans. He will speak on C –Suite HR Leaders, which is very important for any emerging HR leader.

Who are the other speakers lined up?
We have a lineup of excellent speakers and resource personnel at the NHRC 2017 who are considered as experts and visionaries. It is indeed a privilege to have them address the Conference. A few of them are Prof. Ajantha S. Dharmasiri - President of IPM Sri Lanka, Director and the Chairman of the Board of Management of the Postgraduate Institute of Management, University of Sri Jayewardenepura, Sri Lanka, Mara Tolja - Co-Founder of Connectel, New Zealand, Raj Raghavan- Director and Head of Human Resources, Asia Pacific Region at Amazon, Esther McIntosh-Country Director of World University Service of Canada (WUSC) and Saman Wimalaratne- Financial Management and Corporate Restructuring Advisor/Regional Director-Magnifier INC PTE LTD.

In addition, there will be a panel discussion on 'Transformational Leadership' and panelists are Bindu Vinodhan – Founder of the Institute of Leadership Learning and Transformation, India, MsSmitha Murthy – Leadership and Organizational Development Consultant, India, Shehara Jayawardana – Group Joint Managing Director, McLarens Holdings Ltd., Carl Cruz - Chairman Unilever, Sri Lanka and Jagath Pathirane – Chief Executive Officer of Expo Freight (EFL), Sri Lanka. The session will be moderated by Ajith Bopitiya – Chief Executive Officer, TRIKONSULT.

What is the agenda of the conference over the 2 days?
We have drawn up an interesting and engaging agenda over the 2 days which will without a doubt enrich the participants' knowledge while opening new perspectives in the understanding of modern HRM.

A detailed agenda is available at our dedicated website http://www.ipmnhrc.lk/ Some the speaker topics that will be delivered by the speakers are 'Touch-savvy' HR Leaders: Caring, Daring and Sharing ,Working Out Loud and the Future of Work, Managing innovative and disruptive talent in high-tech companies, Developing a New Generation of Youth Employees for Growth Sectors of the Sri Lankan Economy and HR Analytics to optimize ROI. In addition to these, there will be panel discussions by key resource personnel. Each session will be followed by a Q&A session giving the participants ample time and opportunity to pose their questions to the speakers and panelists.
The networking and fellowship session will also provide an opportunity for the participants to meet up and exchange their ideas and pleasantries in a non-formal setting.

How many participants are you expecting at this conference?
We expect around 1000 participants, including the delegates from India, Pakistan, Bangladesh, Philippines and Malaysia. The conference provides an ideal opportunity and setting for the attendees to establish new relationships, exchange ideas and grow their networks. Like in the previous years, the entrance tickets are selling fast and we earnestly request the HR fraternity, the C-suite Leaders and HR students to reserve their early to avoid any disappointments.

Who are the sponsors of the event?
We are extremely grateful to our sponsors who came in their numbers to support this important Conference, and take this opportunity to thank them for their support and encouragement. Our Principle Sponsors are Mobitel, hSenid, Wijaya News Papers, 361 Degrees, Certis Lanka, Seylan Bank, Hemas Hospitals, Maliban, Taj Samudra, TV1, Yes Fm, Legends Fm, Sharp Printers and MyJobs.lk. Our Co- Sponsors are PWC, Ikman.lk, HNB, RRD, NSB, ESOFT& ICBT.