---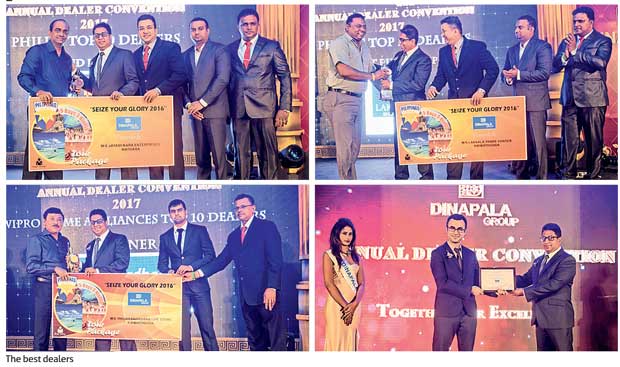 Dinapala Group of Companies, a leading name in the field of business in this country is a commercial organization established in 1956 in Kandy.
Dinapala Group of Companies which has continuously won the consumer confidence for more than 61 years, held its annual dealers' convention at Waters Edge Hotel, Battaramulla recently.
The company which has 61 years of experience in the fields of trading and distribution of goods under famous brand names like Philips, Wipro, Clear, Grei were held the dealers' convention with the participation of 300 trade dealers to recognize the outstanding performance of the dealers in year 2016.
The welcome speech of the event was delivered by Sachin Dinapala, Director of Dinapala Group of Companies. Philips sales representatives as well as trade dealers selling Wipro household electrical appliances, Wipro power tools were also present during the event. Dinapala Group of Companies was selected as the sole distributor for selling household electrical appliances manufactured under the brand name of Sinbo in Turkey of which the dealership was legally transferred to Roshan Dinapala, Managing Director of Dinapala Group of Companies by Ozcan Isseven, Export Trade Manager of Sinbo Institute.
The awards were presented by Roshan Dinapala - Managing Director of Dinapala Group of Companies, Sachin Dinapala - Director, Mahesh Dedigamuwa - Sales Promotion Manager, Indika Somarathna -Wipro power tools (Marketing) Manager, M.M. Aththanayake -Wipro household electrical appliances Marketing Manager, Samitha Nishshanka - Anjana Wimalaratna, Philips Chief Marketing Officer at Philips Lanka Solutions.