---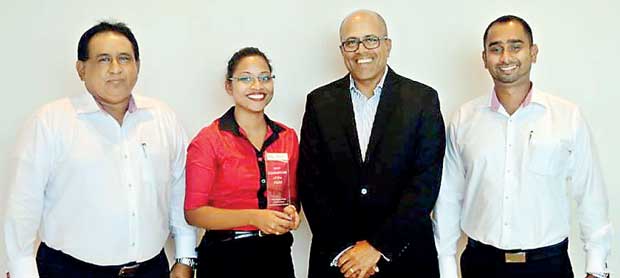 Champion of the Year Nipuni Abhilasha (Front Office) with Cinnamon Red General Manager Terrence Fernando, Head of Rooms Division Mirza Fajudeen and Front office Manager Husni Ahmed
Lean luxury property Cinnamon Red held its Associate Quarterly Meeting for the second quarter of 2016/2017 recently at Flavoured restaurant.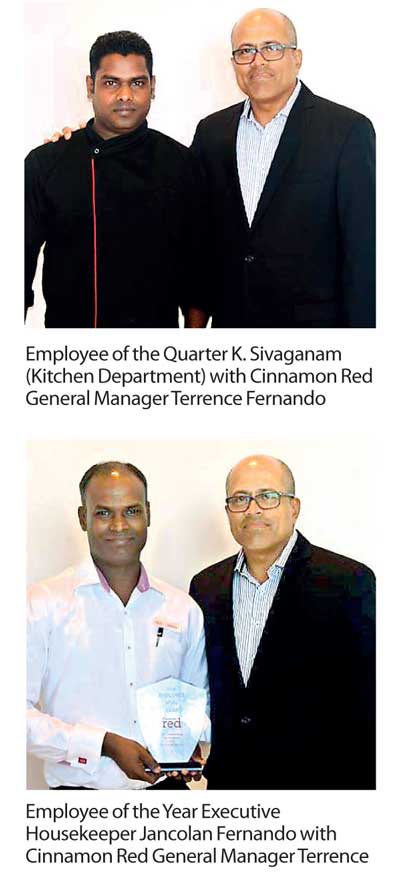 Dynamic individuals of the hotel, who performed in an exemplary manner during this quarter, were recognised and appreciated through certificates and awards by General Manager Terrence Fernando.
The Employee of the Quarter Front of the House went to P. Krishnamoorthi (Food and Beverage) while the Employee of the Quarter Back of the House was awarded to K. Sivaganam (Kitchen). Having completed a year of operations in September, the hotel also gave a Champion of the Year award as well as Employee of the Year. These titles went to Nipuni Abhilasha (Front Office) and Jancolan Fernando (Housekeeping), respectively.
The General Manager also took this opportunity to address the staff and highlight the performance targets of the property, while also announcing upcoming events.