---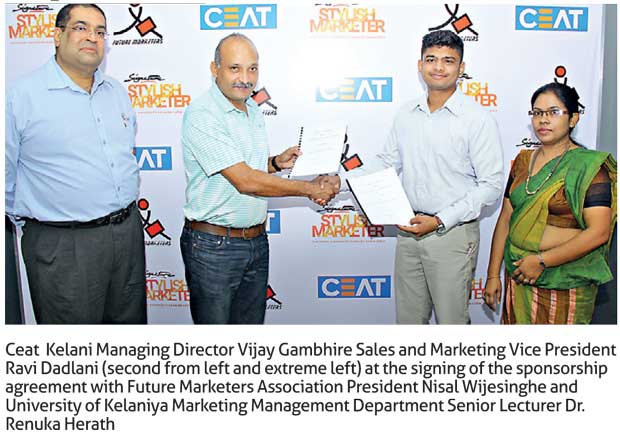 Sri Lanka's leading tyre brand Ceat has entered into a partnership with the University of Kelaniya to support the aspirations of its undergraduates as part of the company's commitment to communities in its neighbourhood.

The engagement commenced with Ceat assuming the mantle of event partner of 'Signature Stylish Marketer' – the annual fashion event organised by the Future Marketers Association of the university's Department of Marketing Management.

A Memorandum of Understanding signed with the University of Kelaniya also commits Ceat to offer a special discount scheme to the undergraduates of the university on the purchase of motorcycle tyres manufactured by the company. These discounts can be redeemed at designated Ceat dealers by students on their next tyre purchases, the company said. Commenting on this partnership, Ceat Kelani Managing Director Vijay Gambhire said: "As one of the biggest industrial entities in the Kelaniya area, Ceat Kelani is proud to support the university that bears the name. The Signature Stylish Marketer event drives the passion of young students and encourages them to explore their talents, while our engagement helps them reduce costs of travel. We understand that a significant number of undergraduates use motorcycles and will welcome the special discounts they will be entitled to."

The 2017 edition of 'Signature Stylish Marketer' is scheduled to take place on December 21st at University of Kelaniya and is intended to be a platform to highlight young models and designers from all local universities. The event aims to provide undergraduates exposure for developing their personality via escalating their creativity, ingenuity and innovativeness and is an opportunity to improve skills in leadership, event management, planning, communication and negotiation.

Ceat Kelani Holdings supplies nearly half of Sri Lanka's overall requirement of pneumatic tyres and exports about a third of its production to countries in South Asia, the Middle East, Africa and the Far East. The company's manufacturing operations encompass the radial, commercial, motorcycle, three-wheeler and agricultural machinery segments. The Ceat brand accounts for market shares of 32 percent in the radial segment, 51 percent in the Truck/Light Truck category, 54 percent in the three-wheeler segment, 22 percent in the motorcycle segment and 72 percent in the agricultural tyre category.