---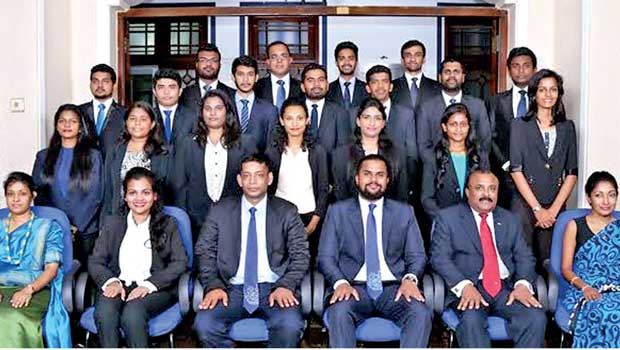 First row (From left): Onalie Dissanayake (Manager, Education Services), Amritha Allahakkoon(Secretary),Brian Selvanayagam (Chairman), Ashane Wadasinghe (President), G.S Sylvester (Advisor), Dilini Rathnayake (Head of Education). Second row (From left): Jenome Ram, Sihara Rathnayake, Giyoshi Kesavan, Samandarie Samarawickrama, Prageetha Gamage, Asha Wijerathne, Melissa Gunailleke. 3rd row (from left): Sahan Perera, Hamza Rahim, Ahmed Zufar , Mohamed Amaan, Farhan Faizal, Suchintha Maddumarachchi, J.P. Dilanka. 4th row (from left) ​Dinuka Solangaarachchi, Shamil Akbar, Dinidu Weeraratne, Nelaka Jayasekera
CIM Sri Lanka, appointed the new student committee for the upcoming endeavours of the year 2017 with the objective to uplift the marketing community of the country by bringing together all CIM students across the local region and offer a knowledge sharing experience with loads of fun and excitement.
The newly elected president Ashane Wadasinghe stated that his primary focus will be to strengthen the bond of the CIM fraternity across Sri Lanka, and enhance familiarity among the CIM community to nurture the salient aspect of the qualification; Networking. Alongside Ashane Wadasinghe being appointed as the president, Amritha Allahakkoon- Secretary, Shamil Akbar -Assistant Secretary, Nelaka Jayasekera– Treasurer and Jenomie Ram - Assistant Treasurer for the year 2017.
Commenting on the newly appointed committee Dilini Rathnayake, Head of Education, CIM Sri Lanka stated, "This year's Student Committee comprises young, energetic and forward thinking marketers with a clear objective to uplift the marketing community in Sri Lanka. They are committed and focused in bringing together all CIM students and members to promote CIM and its activities in
Sri Lanka."
The CIM student committee operates under the supervision and the guidance of Brian Selvanayagam (Chairman), Dilini Rathnayake (Head of Education), G. S Sylvester (Advisor to the Student Committee) and Onalie Dissanayake, Manager Education Services, CIM Sri Lanka and provides a professional platform for young marketers to get involved in uplifting the marketing fraternity of the country. The student committee is responsible in taking the values of the Chartered Institute of Marketing to the marketers of the future generation. The Student Committee conducts a number of projects every year namely; the future marketers conference, CSR projects and networking events.
CIM Sri Lanka is the first International branch of CIM UK and is proud to claim the largest membership outside the UK. CIM Sri Lanka has always campaigned for high professional standards, greater recognition for
the profession and marketing excellence in
Sri Lanka through education, training and development.