---
The Chartered Institute of Marketing Sri Lanka will be hosting its second CIM Talking Point Programme and the CEOs Breakfast Forum for this year on 25th and 26th of May respectively.
The Talking Point programme will be held on the 25th May at the Hilton Colombo Residences from 6.00 pm onwards and the Breakfast Forum will be held on the 26th of May at Barnes, Jetwing Colombo Seven, from 7.30 am to 9.00 am.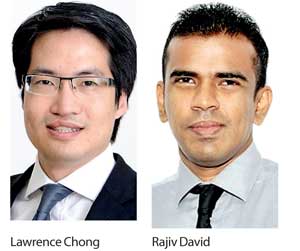 The Talking Point programme is titled 'Marketing in the Age of Design and Disruption'- an overview of how marketing will innovate to remain effective and how brands are shaping and using experiences as a way to influence end-users. The session will also focus on the changing role of the marketer in a new age of design to create desire and change mindsets.
The topic for the CIM CEOs Breakfast Forum is 'Redesigning an Effective Organization in an Age of Disruption'presenting a systemic approach of engaging with employees for growth while dealing with change.
Both programmesare organized with the objective of highlighting emerging themes in marketing /business and discuss best practices to support strategic decisions for the future. These forums will be a platform for participants to share and exchange key insights which would help them in making decisions in their own organizations.
The speaker of both programmes is Lawrence Chong, CEO at Consulus, a global innovation consultancy with business management and multi-disciplinary design capabilities. Consulus is present in Singapore (HQ), Argentina, Bangladesh, Brunei, Italy, Myanmar, Sri Lanka, Thailand, Vietnam. Since 2004, the firm has implemented a multi-disciplinary method to redesign organizations to enable innovation. He leads a global team that helps leaders redesign their businesses to meet the complex challenges of the 21st century.
With experience in transforming companies in the Asia-Pacific ranging from multibillion-dollar enterprises to start-ups, from family-owned to government-linked firms, he brings pragmatic solutions with cultural sensitivity and innovative thinking.
Lawrence is a featured speaker at global events such as World Marketing Summit and World Brand Congress. Since 2003, he has spoken to more than 8,000 people in over 30 countries on how companies can innovate through unity and shape the world. In2016, he spoke to 1390 people in 5 countries in Asia and Europe. His thoughts on innovation and creativity appear in global media such as Fortune Magazine, Nikkei Asian Review, Business Insider, Business Times, Marketing Magazine, Newsbase, TheEdge, Prestige Magazine, VTC10.He is active in the design industry and served as the Immediate Past President of Design Business Chamber Singapore. In his personal capacity, he is a member of the Focolare, a movement in favor of building a united world through dialogue, economics, and politics.
Rajiv David, Head of Membership Development at CIM Sri Lanka stated "The main objective of these programmes is to impart knowledge on current themes and provide the marketing community with valuable information on market trends. We believe these timely topics will be useful to understand the upcoming marketing challenges and be prepared to successfully face the same. We hope to continue to add value to all the marketing professionals through our Breakfast Forums and Talking Point series".
CIM is the largest community of professional marketers in the world with 100 years of heritage delivering education, membership and insight offerings to the marketing and sales profession. As the leading professional body for Marketing CIM places great emphasis in bringing together programmes that are topical and relevant targeting the members and the entire business community.