---
Amal Ratnayake (FCMA CGMA) was nominated as Global Vice President of CIMA at the recent AGM held in London.
Ratnayake is an experienced transformational leader and strategic CFO with an international track record of driving financial and structural transformation in businesses undergoing change and growth. He is a versatile leader and board member who thrives in finding opportunity in challenge and order in chaos.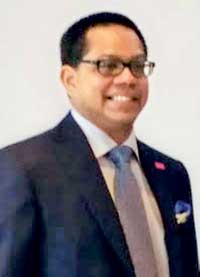 Ratnayake serves on the board of the Association of International Certified Professional Accountants, the global accounting organisation formed this year by The Chartered 6 Institute of Management Accountants (CIMA) and the American Institute of CPAs (AICPA).
In addition to serving on the CIMA Council, he has served on the CIMA Executive Committee, CIMA Boards and Policy Committees in three continents for over a decade.
Ratnayake was born in Sri Lanka and had his early education at St Thomas' Prep School Colombo. He embarked on his professional career as an accountant by training at a mid-sized accounting firm, B.R.de Silva, while simultaneously studying for CIMA exams. Upon graduation, Ratnayake moved to industry and held progressively senior roles, initially at a premier export house, George Steuart & Co. and later at one of the largest clothing manufacturers in Sri Lanka, the MAS group.
In 1997, Ratnayake moved to the UK to read for an MBA at the Cranfield School of Management. On completion of his MBA, Ratnayake moved to Saudi Arabia to head corporate strategy at a large and diverse group of companies, the Alesayi group, where he led strategy for the national agent for Panasonic and restructured the debt portfolio of the group of companies through conventional and Islamic financing instruments.
In 2002, after Ratnayake moved to Toronto, he worked for Sprint Canada Inc. and Rogers Communications Inc., two of the largest telecommunication providers in Canada. He is currently CFO at The Official Community Corporation (OCC), the leading online event driven brand management company that specializes in the music industry and works with artistes such as Elton John, Celine Dion, Bob Dylan and James Taylor. In his role at OCC, he has been instrumental in guiding strategy, achieving double-digit growth and expansion into new revenue lines and business partnerships.
Ratnayake gained his CIMA Membership in 1993 and began volunteering with CIMA soon thereafter in the Education and Training Committee of CIMA Sri Lanka. More recently, and after moving to Canada, he joined the CIMA Canada Board in 2004 and was appointed as the Board Chair in 2012 and 2013.
He has been the CIMA Council representative for the Americas since 2013 and has served on the CIMA Executive Committee. He has served on the CIMA Policy committees of Member Services and Global Markets and Chaired the CIMA Global Markets Committee from June 2015 to
December 2016.
In addition to volunteering with CIMA in Canada, Ratnayake actively advocated for CIMA members' access to their profession in Canada. He appeared before the Justice Committee of the Ontario Legislature to challenge legislative changes that adversely impacted CIMA members' ability to use their designations in Canada and was successful in obtaining changes to proposed legislation for the benefit of CIMA members.
He has also served on the Immigrant Employment Initiatives Advisory Committee of the Toronto Region Immigrant Employment Council to address the barriers faced by the internationally trained professionals' access to their professions in Canada.
Ratnayake has lived and worked in countries across the continents of the world including Nigeria, Saudi Arabia and the United Kingdom. He currently lives in the Greater Toronto Area of Canada, with his wife Devika, who is a Barrister and Solicitor, and their two sons, Christten and Aedan.