---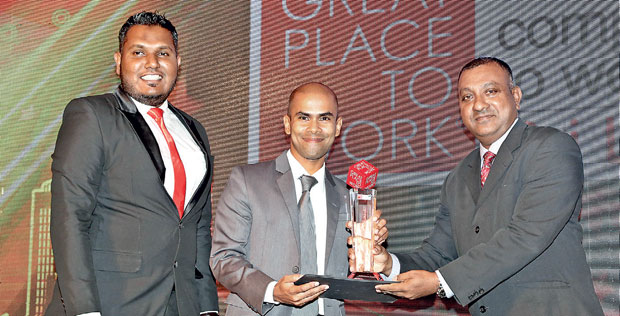 From left: Aeturnum Senior Human Resources Executive Mohamed Sabry and Aeturnum Software Delivery and Operations Vice President Menuke de Silva receiving the award from LMD Marketing Director Brian Emmanuel
Aeturnum Lanka (Pvt.) Ltd, was ranked among Sri Lanka's 25 best companies to work for by the Great Place to Work Institute in partnership with the LMD and Ceylon Chamber of Commerce.
The annual Great Place to Work survey was conducted in 75 companies across 15 diverse business sectors with over 16,000 employees.
Aeturnum Lanka (Pvt) Ltd. was established to carry out research and development operations in November 2006 as a subsidiary of the US-based Aeturnum Inc. which is headquartered in Boston, Massachusetts. The company celebrated its 10th anniversary last year by felicitating past and present staff, partners and customers.
In the last 10 years, Aeturnum has grown from a three-member team to a 100+ mid-sized IT organization in Sri Lanka. Based on revenue growth in the last few years, the company had been identified as a large IT services organization by Sri Lanka Association of Software and Service Companies (SLASSCOM), which is one of the leading IT associations in Sri Lanka.
"We are delighted to receive this award as a recognition of our great work culture," said Aeturnum Software Delivery and Operations Vice President Menuke de Silva. "We strive to maintain an open work culture in which everyone is a hands-on contributor, comfortable in sharing ideas and opinions and building trust with each other."
One of the key ingredients at Aeturnum is the work place culture that inspires trust, pride and camaraderie for the company where every employee shares in a common goal and vision in working towards the best interest of Aeturnum. This ethos has been passed down from the founding members of the company and maintained throughout the years.
"Although many of our pioneering team members are not with us today, I would like to extend a special thanks to them for being a part of Aeturnum and who helped lay the foundation of this organization back in the days and instilled leadership and team spirit across our workforce."
Most of Aeturnum's employees have the opportunity of working with the company's international customers such as PayPal, Microsoft, Oracle, eBay, Experian, and more, giving them the exposure of experiencing world class product development. Several of Aeturnum's customers have been acquired by the likes of eBay, Oracle, NetApp and PayPal.
"This is a powerful testament to our prowess and specialization. None of this could be achieved without the grit, determination and inspiration of our team, and the boundless faith shown by our customers in our capabilities," added de Silva.