---

AdCove International Advertising and Marketing (Pvt) Ltd, a global advertising and marketing company functioning in Mumbai, India unveiled its newest branch in Sri Lanka.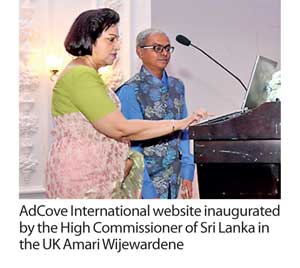 Business entities can now obtain innovative marketing and advertising solutions from AdCove International situated at Robert Gunawardene Mawatha, Battaramulla.
AdCove International Advertising and Marketing (Pvt) Ltd was founded in Mumbai, India around half a decade ago by a team of seasoned Advertising and Marketing professionals with a prime focus on servicing clients across the globe and creating inspiring, evocative footprints for brands, across ATL, BTL and Digital.
Having been in this competitive sphere very actively, AdCove has made a mark in working the collaborative way by delivering timely execution of projects with desired quality and best of Return on Investment (ROI) for its clients.
From surveys to creating impactful brand identities, AdCove is where its clients ought to be for 'Glocal' communications to get decoded –'global strategies for effective local implementation'.
"Our Mission is to provide innovative and effective advertising and marketing solutions to help our clients grow their businesses and achieve their marketing objectives. We at AdCove International deliver result oriented advertising and marketing solutions that augment our clients' bottom line and boost their growth", said a senior local team-member of AdCove International at the unveiling ceremony of the company's Sri Lankan branch.
He added, "We build close relationships with our clients with a view to creating an in-depth understanding of their business and social needs. With that knowledge we provide innovative advertising solutions to fulfil their business and social needs with best ROI. Our list of reputed clients is testament to our success. We endeavour for our clients' continued success and take pride in what we do".
Services AdCove International Advertising and Marketing (Pvt) Ltd provide to Sri Lankan clients include; planning and strategy, product branding, packaging solutions, digital advertising, UX & UI, website, social media, apps, phygital, experiential (AR & VR), production of print / tv / radio / digital advertisements, 3D / computer graphics designing, creative photography, exclusive Indian model bank, activation and event management, outdoor advertising, media planning and scheduling and more.