---

Pic by Kushan Pathiraja
Sajith's manifesto carries an extremely pragmatic and practical programme
By Sandun A Jayasekera
Former President and senior patron of the SLFP, Chandrika Kumaratunga and SLFP stalwart and former Minister Kumara Welgama made a fervent appeal to SLFP voters yesterday not to vote for the SLPP candidate Gotabaya Rajapaksa and use their vote discreetly and wisely if they want to save the nation, the country and the party.
Mrs. Kumaratunga addressing a heavily attended SLFP gathering under the theme 'We Sri Lanka' last afternoon at the Sugathadasa Indoor Stadium said the SLFP has been disintegrated into several factions and party supporters, members and voters did not have a direction and vision and added the rot started by the chairman in 2015 and the fragmentation completed by the General Secretary in 2019.

The 95% of SLFPers wanted the Chairman of the party (President Maithripala Sirisena) to contest. Almost all the members of the policy making body of the party, the Central Committee also endorsed his candidacy but ultimately the SLFP joined with the SLPP. But when a crucial decision like this is taken, we must have a good review of the situation and the people with whom we are going to deal with. I faced this problem in 1994 when I contested the PC polls.

I went through the election manifestos of both top candidates, Sajith and Gotabhaya. I have a good experience in drafting manifestos as I have done it several times. The manifesto of Gotabaya is full of nice and attractive words. He says the freedom has to be protected and he would give this and that. I could not hold back my laugh when I read it. What did they do during 9 years in power? Nothing! During my time, I increased salaries of public servants five times while doing a war. The Rajapaksa regime finished the war using weapons, arms and ammunition I imported. Mahinda Rajapaksa instead of increasing salaries of public servants got increased his own salary from Rs. 25,000 to Rs. 90,000. What Rajapaksas did other than stealing public money at every opportunity? Did they develop irrigation, agriculture, education, health or any other sector? No, Mrs. Kumaratunga charged.
"I would like to ask Gotabaya how he protected freedom of the people when they were in power? Are they going to protect the individual freedom like they protected the freedom of Lasantha Wickramatunga, Keith Noyahr or Prageeth Eknaligoda? How are they going to protect the right for free thinking? Can they give a tender without the 50% commission," she questioned.

In contrast, Sajith Premadasa's manifesto carries an extremely pragmatic and practical programme to develop national education, health, prevention of drugs and alcohol. We can keep hopes on his working programme contained in his manifesto as the current government has increased salaries of public servants more than double, developed education and health like never before. The government has developed roads and minor irrigation projects in all parts of the country. I have myself developed 150 minor irrigation projects in Attanagalle in the recent past through the NGO I have connections with. Unfortunately, this government has miserably failed to give some publicity to good work they have done in the country even though the leader of the government is a member of a respected media family. They have inserted full page advertisements on their development programmes but I think they are late for that now. However, it is up to a New Democratic Party (NDF) government to finish the job successfully.

Another excellent proposal of Sajith is to appoint a Board of Eminent Persons chosen from various professions and fields to advise the government on policy and workability of the development schemes which ensures successful completion of each project. This is a complete departure of the habit of offering tender to the contractor who pays the 50% commission. That is why I say you must take your decision to use your right of franchise on November 16 wisely and thinking about the future of the country, she stressed.
They even threatened my only daughter with death. We formed Mahajana Pakshaya temporarily but based on SLFP policies because we have no alternative. How many times Mahinda has uttered hateful, malicious and insulting statements against me?

Certain SLFP members don't know how to live without a ministerial portfolio. The concept of good governance took a heavy beating in 2015. Mahinda told his ministerial colleagues that 'I don't poke into your work like that woman. You can engage in any fraud as you pleased but don't get caught at any cost'. When Provincial Council members met me they used to say don't forget the 20% commission you get from projects. I could easily forget this disaster to the party but decided to go against it and protect the party because we need a President who would listen to us. In a future government with the SLFP as a partner don't attempt to engage in corruption. If you did so I will come with my walking stick and catch you, Mrs. Kumaratunga warned.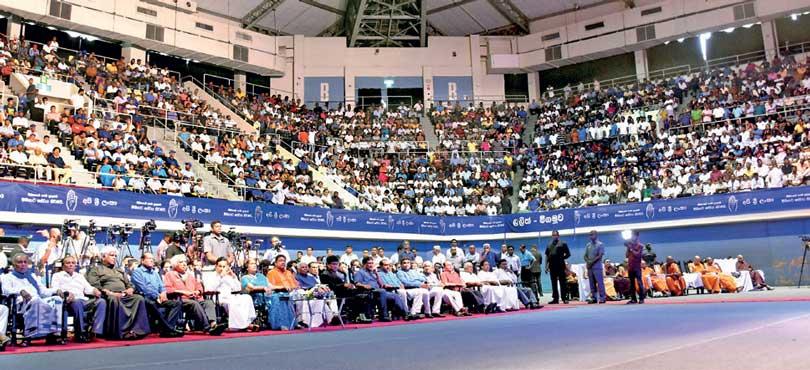 The SLFP - SLPP agreement has not released but I have a copy. In the 12th paragraph, it says the SLFP would get only a proportion similar to the vote base the SLFP drew at the local government polls in February 2018 and not 31% as declared at the news briefings. The SLFP does not want this malicious and hateful politics any longer. I don't understand as to why Rajapaksas hate me like this. I have no any personal grudge with them. Gotabaya in 2007 May as the defence secretary withdrew my security in full leaving at least one policeman or a vehicle. When I complained to a few foreign governments, they warned the government and restored my security by one third. Why this rivalry. Do they attractive than me or educated than me? Do their children educated than my children? I don't think so.

"Therefore, I appeal to you. On the 16th of November do your duty to save the country, the nation and your party. If you failed in that endeavour the country would be in dire strait. The youth will come rebellious than in 1971. To save the country take the correct decision on the 16th, she emphasised.

Former Minister and Parliamentarian Kumara Welgama said he directly declare that he would not vote for Gotabaya.

"You know whom to vote and I can't directly tell you for whom to vote. However, it is your duty and responsibility save the country from an impending disaster by voting for the right and most suitable candidate among the top two candidates," Mr. Welgama said.

He said he has been a member of the SLFP since 1971. The SLFP has suffered similar setbacks in the past. At 1951 election after forming the SLFP led by late Prime Minister S.W.R.D. Bandaranaike, the party secured only 8 seats but in 1956 it came to power and implemented a series of people friendly programmes like the EPF. When the SLFP decided to join the UNP, only I opposed to the move and left the meeting. I have never worked for pohottuwa and will never do it in future. The decision to join the SLPP destroyed the SLFP as it was a wrong decision.

Beruwala SLFP organiser, M.M.M. Amjad, also spoke. When Mrs. Kumaratunga and Mr.Welgama entered the stadium there was a rapturous welcome from the gathering.
Ministers, Mangala Samaraweera, Dr. Rajitha Senaratne, Arjuna Ranatunga and Mano Ganeshan, Parliamentarian Jayampathi Wickremeratne and a large number of former SLFP ministers and incumbent SLFP district and electoral organisers, Presidential candidate and former Minister Milroy Fernando, Dr. Wickramabahu Karunaratne, former Minister Athauda Seneviratne were present at the occasion.

Pic by Kushan Pathiraja