---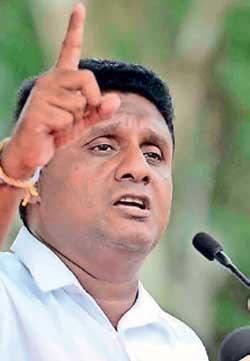 By Yohan Perera and Ajith Siriwardana
Samagi Jana Balawegaya does not practice 'tale carrying politics' but will only voice the issues only internally, Leader of Opposition Sajith Premadasa told Parliament yesterday.
Speaking on the debate on Appropriation Bill 2020 in the House Mr. Premadasa said he and the main opposition does not intend to internationalise Sri Lanka's internal issues. "There were times when those who were in the opposition in the past internationalised Sri Lanka's internal issues and engaged in tale carrying politics, but we don't intend to engage in such a practice, " Mr. Premadasa said.

"I was ridiculed for what I went on saying when COVID-19 hit the country. I called for the payment of Rs.20,000 to the affected families but I was laughed at. However, the government had begun paying Rs.10,000 per week for those under quarantine for 14 days. The government took care of people effectively when the pandemic hit for the first time in March. The Government was keen to end COVID-19 pandemic during the first wave so that the election could be held. However, the attitude today is that 'escape from COVID-19 if you can and die if you can't," he added.

"The authorities have failed to stabilise prices of essential goods despite repeated gazette notifications. You promised to stabilise the price of sugar at Rs. 80 a kilogram but the price has actually exceeded Rs 100," he also said.
The Government was keen to end COVID-19 pandemic during the first wave so that the election could be held
I called for the payment of Rs.20,000 to the affected families but I was laughed at