---
UNP members must not make deals with the government based on personal agendas
It was not Sajith Premadasa, who was beaten at the election but the peace-loving people of Sri Lanka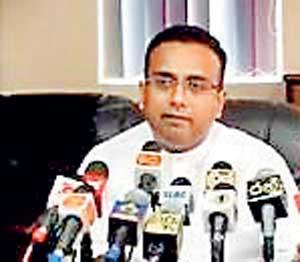 By Sandun A Jayasekera
Galle District MP Manusha Nanayakkara urged former prime minister and UNP leader Ranil Wickremesinghe to give the majority members in the party a chance at least at this late stage and allow Sajith Premadasa to take over the party leadership.
He said the UNP members must not make deals with the government based on personal agendas and provide the government with a two-thirds majority to dissolve Parliament before March 1.
The MP told the Galle District UNP executive committee that Sajith should be given the party leadership and the post of Opposition Leader as he is the most popular politician in the opposition and also the leader who won the confidence of all Sri Lankans countrywide.
"Don't forget that Sajith won the confidence of Sinhala Buddhists, Tamils, Muslims, Burghers, Malays and all other minority communities. He is the true leader of all Sri Lankans. Therefore he is not the leader of a part of Sri Lanka but of the entire country. The difference in winning and losing is only 700,000 votes," he said.

"It is not Sajith Premadasa who got beaten at the presidential election but all peace-loving masses who believed in reconciliation, inter-communal harmony and cohabitation. We can see the fate of Sri Lanka before long," the MP said. "Ranil was the UNP leader when we were still at school. But the UNP desperately needs new thinking, new leadership and a new work plan if we are to rise again as the most powerful and biggest political party in Sri Lanka. There is a handful of unsuccessful UNP politicians with shady backgrounds batting for Ranil right now. A 95% of UNP supporters and voters reject Ranil outright and demand Sajith's leadership for the party and the opposition and are asking Ranil to step down with dignity and self respect before it is too late." He said he was sad that the UNP, the grand old party that ruled the country longer than any other party and led by revered politicians like D.S. Senanayake, Dudley Senanayake, Sir John Kotalawela, J.R.Jayewardene, R. Premadasa and D.B.Wijetunga suffered a huge setback under Ranil and no one could prevent it becoming a minor party with no influence in national politics if Ranil remain as the leader any longer.

"The cry of the UNP-loving public round the country is, 'Ranil please go for god's sake as you have done much harm not only to the UNP, but to the economy and the country'" the MP said.
Don't forget that Sajith won the confidence of Sinhala Buddhists, Tamils, Muslims, Burghers, Malays and all other minority communities. He is the true leader of all Sri Lankans
It is not Sajith Premadasa who got beaten at the presidential election but all peace-loving masses who believed in reconciliation, inter-communal harmony and cohabitation