---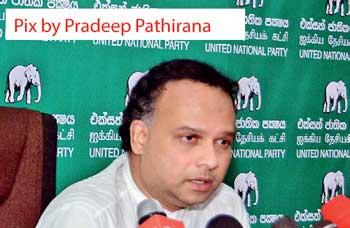 By Yohan Perera
UNF Parliamentary Group will meet at party headquarters Sirikotha today for a healthy discussion on the party's future, UNP National Organiser Navin Dissanayake said yesterday.
Mr. Dissanayake told a media conference that today's discussion would be healthy as issues pertaining to a political party including the party leader's post and the Opposition Leader's post. However he said matters pertaining to a political party cannot be resolved overnight. "Matters pertaining to political parties usually won't be resolved overnight. Therefore the parliamentary group will have to meet few times while there may be few more backdoor discussions," he said.

Also he said current leader Ranil Wickremesinghe will certainly resign from the leadership if there is such a demand from the party. However the MP said he is not aware whether Mr. Wickremesinghe would take up an international post after giving up politics." Mr. Wickremesinghe had not informed us about taking up any international post, but he is the most suitable Sri Lankan politician for such a post," Mr. Dissanayake said in this regard.

Asked whether there is a move to appoint Speaker Karu Jayasuriya as the Leader, the MP responded saying there are few names proposed for the leadership and the Leader of Opposition post and these would be discussed.

Also he said Former Deputy Leader of the party Sajith Premadasa will come out soon and will engage in party activities before long. "It is natural that it takes time for a person to absorb the situation after an election defeat. It was same for my mother who was the UNP's candidate for the presidential elections in 1994 and was defeated. Therefore Mr. Premadasa will become active very soon," he said.